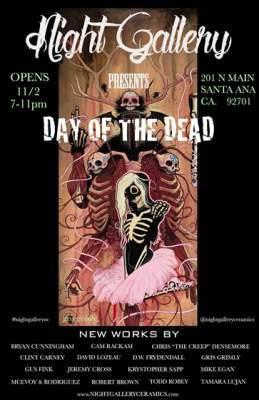 Night Gallery, in Santa Ana, proudly presents "Day of the Dead," a group show featuring work by the phenominal talents of Bryan Cunningham, Cam Rackam, Chris "The Creep" Densemore, Clint Carney, David Lozeau, D.W. Frydedall, Gris Grimly, Gus Fink, Jeremy Cross, Mike Egan, McEvoy and Rodriguez, Robert Brown, Todd Robey and Tamara Lujan.
Occurring during the annual down town Santa Ana "Dia De Los Muertos" festival and in coordination with the Santa Ana art walk, Night Gallery Ceramics and Fine Art is proud to bring the theme of "Day of the dead"" back to its walls.
Featuring the works of 15 artists from around the country in a variety of artistic styles. Each artist has reinterpreted the common themes of Skulls, flowers, and mortality, through this colorful and vibrant celebration of the dead. Finding the beauty and symbolism in the grave, cemeteries, funerals, and the honoring of ancestors. The works have the effect of making the macabre approachable and even festive.
We welcome you to the opening reception on Nov. 2nd 2013, from 7 pm – 11 pm.
View the work online prior to the opening – here: http://www.nightgalleryceramics.bigcartel.com.
Works can be purchased directly from the above site or by calling: (714) 376-5634.  We look forward to seeing you and thank you for your support!
Sincerely,
Robert Brown – Owner & Jeremy Cross – Curator
www.nightgalleryceramics.com
www.facebook.com/nightgalleryoc