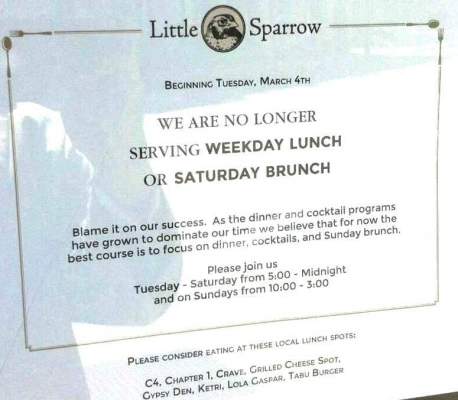 When the owners of Downtown Santa Ana's "The Little Sparrow" were begging the Santa Ana Planning Commission for a full alcohol license and extended hours of service they claimed to be very experience in operating restaurants, although that did not appear to the case.
Perhaps that suspected inexperience has caught up to them now as they have announced via a sign on their door that as of March 4, 2014 they are no longer serving breakfast and lunch, although they will continue to serve brunch on Sundays and will have dinner service from Tuesday – Saturday, from 5 pm to 12 midnight.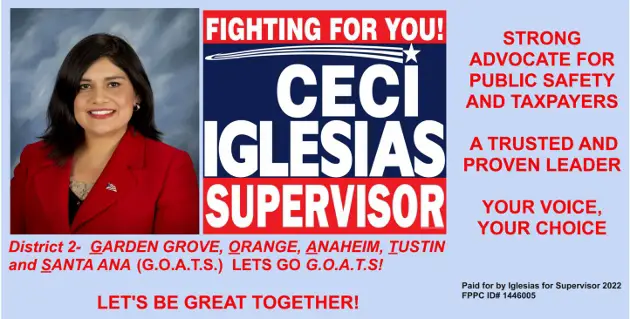 One of our readers also noted that the sign on their door directs their clients to local eateries – except they did not list any of the Latino-owned restaurants in DTSA.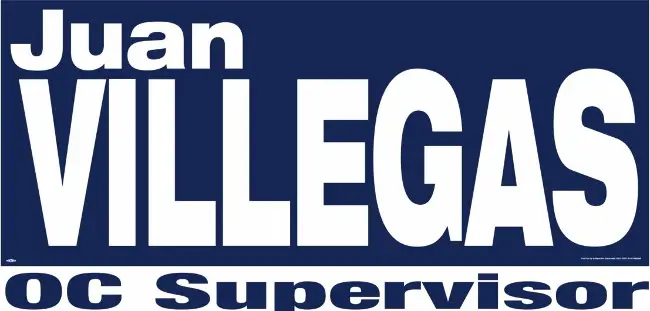 This move comes on the heels of the closure of the Memphis at the Santora and The Crosby.  Those closures came not long after a 29-year old Chapman graduate named Kim Pham was literally kicked to death by three Latina patrons of The Crosby.
Is the current focus on evening drinking and debauchery in DTSA killing their daytime traffic?  Santa Ana residents are starting to complain about the proliferation of alcohol permits in DTSA.  Honestly what reason to most of our local residents have to visit DTSA at this point?  The entire thrust of DTSA is now to appeal to yuppies and hipsters who don't live here.
To make matters worse for the Little Sparrow, they finally caught the attention of the Orange County Health Care Agency.  They received a Major Health Violation on 2/5/14 for a "Cockroach Infestation/Activity in Critical Area." Major Violations pose the highest risk of causing food poisoning (or foodborne illness.
Here is the Little Sparrow's entire record of OC Health Care Agency Inspections and Violations:
FOLLOW-UP INSPECTION

 

02/13/2014

Unsanitary Equipment/Utensil/Linen/Plumbing

Failure to Comply w/HACCP or TPHC plan not on-site

ROUTINE INSPECTION

 

02/05/2014

Cockroach Infestation/Activity in Critical Area

Failure to Comply w/HACCP or TPHC plan not on-site

Lack of/ImproperJanitorial Facilities or Liq Waste

Improper Holding Temperatures of PHF

Lack of/Unsanitary/Condition Walls/Floors/Ceilings

Unsanitary Equipment/Utensil/Linen/Plumbing

REINSPECTION SCHEDULED

FOLLOW-UP INSPECTION

 

09/17/2013

Unsanitary Equipment/Utensil/Linen/Plumbing

Failure to Comply w/HACCP or TPHC plan not on-site

ROUTINE INSPECTION

 

09/10/2013

Failure to Comply w/HACCP or TPHC plan not on-site

Lack of/Unsanitary/Condition Walls/Floors/Ceilings

Unsanitary Equipment/Utensil/Linen/Plumbing

Inappropriate Sanitizer Level/ Lack of Test Strips

Improper Food Storage/Receiving

Improper Holding Temperatures of PHF

Lack of Food Protection Manager Certificate

REINSPECTION SCHEDULED

ROUTINE INSPECTION

 

05/13/2013

Lack of/Improper Handwashing/Handwashing Sup.

Inappropriate Sanitizer Level/ Lack of Test Strips

Improper Holding Temperatures of PHF

Uncleanliness of Premises/Trash Storage

Improper Food Storage/Receiving

Unsanitary Equipment/Utensil/Linen/Plumbing

Lack of/Unsanitary/Condition Walls/Floors/Ceilings

CHANGE OF OWNERSHIP

 

05/02/2013