The Irvine Police had to deal with an unusual situation on Tuesday when they got calls about a mountain lion at a local shopping center.
The mountain lion was spotted in the area of Sand Canyon and Irvine Center Drive. As the Irvine law enforcement officers arrived, the lion ran towards the shopping center and even banged against the glass door of a salon.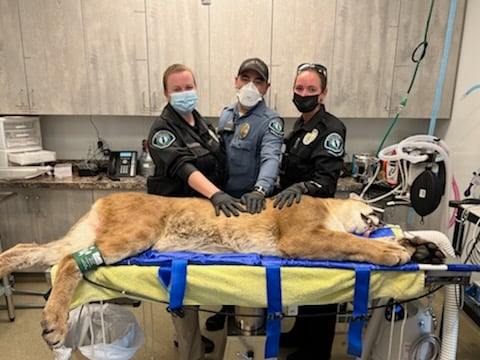 Fortunately the Irvine P.D. Animal Services Officers arrived and were able to sedate the mountain lion inside an office building with help from Dr. Scott Weldy of Serrano Animal & Bird Hospital. Weldy's clinic represents the veterinary part of Irvine Animal Control.
The mountain lion was estimated to be about 16-20 months of age based on his weight – 113.7 pounds. That is the age when young mountain lions leave their mother and try to establish a new home.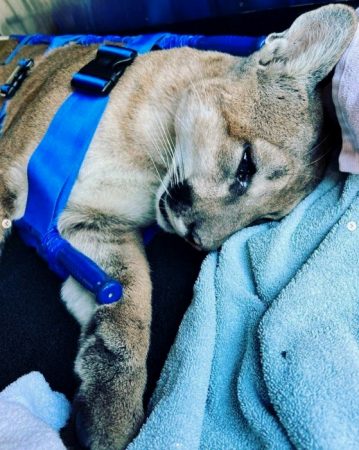 It is possible that this is the same mountain lion seen swimming in Lake Mission Viejo after spending some time outside a nearby home over the weekend.
The mountain lion was fitted with a tracking collar and will be released back into the wild.
Kudos to the Irvine Police for saving the wild animal. A similar incident happened in Villa Park back in 1998 but OC Sheriff Deputies killed that mountain lion as reported by the L.A. Times. They claimed the creature had charged at them.
Mountain lions hunt deer, which live in the surrounding area as well as coyotes, raccoons, skunks, opossums, rodents, rabbits, etc. They do not typically prey on domestic animals unless an opportunity arises and are solitary, elusive and usually avoid humans as much as possible.
If you run into a mountain lion stay safe by remembering to:
• Be aware.
• Don't walk alone, bring a friend.
• Wear bright and highly contrasting clothing.
• Watch for signs and trail postings.
• Avoid jogging or mountain biking in low light conditions at dusk and dawn.
• Stay on the trail.
• Supervise children, and keep them within arm's reach.
• Keep pets on a secure leash.
• Keep pets indoors.
• Don't approach any wild animal.
• Give wildlife the time and space to steer clear of you.
• Try to look as large as you can and do not crouch down if you see a mountain lion.