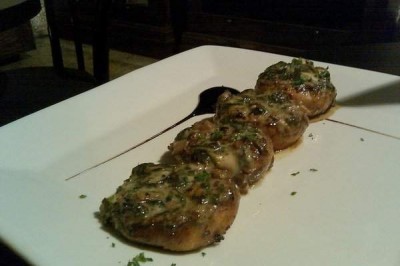 Now that Kim Pham, the 23-year-old young woman who was brutally beaten up on Friday night while waiting outside The Crosby, a hipster bar/restaurant/nightclub in Downtown Santa Ana, has died from her injuries one can expect that everything about DTSA will be scrutinized by the press.  The same goes for The Crosby.
Bad enough that the police response to the beating was slow and security cameras appear to be nonexistent in DTSA.  But The Crosby, as it turns out, also has a not so great health record.  In fact their Health Permit was suspended in November!
Here is their entire record of violations, as issued by the Orange County Health Care Agency.  This is public information and unfortunately we live in a County where restaurants are not give letter grade health ratings.  So you have to click here to look up this info online.
Service
Date

HEALTH PERMIT REINSTATEMENT

   

11/29/2013

FOOD OT FOLLOW-UP (type ot)/OTHER

   

11/29/2013

Water Temp (100F-119F)/Wash Temp <100F/Cross Con

HEALTH PERMIT SUSPENSION

   

11/27/2013

REASON FOR PERMIT SUSPENSION/CLOSURE

 INSUFFICIENT HOT WATER

ROUTINE INSPECTION

   

11/27/2013

Hot Water (<= 99F) not Avail Throughout Facility

Improper Cooling Practices

Lack of Food Protection Manager Certificate

Improper Food Storage/Receiving

Lack of/Unsanitary/Condition Walls/Floors/Ceilings

Uncleanliness of Premises/Trash Storage

Unsanitary Equipment/Utensil/Linen/Plumbing

Evidence of Vermin Activity/Presence of Animals/Insects

Improper Holding Temperatures of PHF

Inappropriate Sanitizer Level/ Lack of Test Strips

FOLLOW-UP INSPECTION

   

07/24/2013

Lack of/Unsanitary/Condition Walls/Floors/Ceilings

Lack of Food Protection Manager Certificate

Improper Food Storage/Receiving

ROUTINE INSPECTION

   

07/18/2013

Lack of/Unsanitary/Condition Walls/Floors/Ceilings

Improper Food Storage/Receiving

Unsanitary Equipment/Utensil/Linen/Plumbing

Improper Holding Temperatures of PHF

Uncleanliness of Premises/Trash Storage

Change Room Improper Use/Lack of

Lack of Food Protection Manager Certificate

REINSPECTION SCHEDULED

FOOD FOLLOW-UP- 2ND+ INSPECTION/OTHER

   

03/20/2013

Lack of/Unsanitary/Condition Walls/Floors/Ceilings

FOLLOW-UP INSPECTION

   

03/14/2013

Unsanitary Equipment/Utensil/Linen/Plumbing

Lack of/Improper Handwashing/Handwashing Sup.

Lack of/Unsanitary/Condition Walls/Floors/Ceilings

Improper Food Storage/Receiving

Inoperable/Lack of Food Thermometer

REINSPECTION SCHEDULED

ROUTINE INSPECTION

   

02/28/2013

Improper Cooling Practices

Improper Holding Temperatures of PHF

Inoperable/Lack of Food Thermometer

Improper Food Storage/Receiving

Unsanitary Equipment/Utensil/Linen/Plumbing

Lack of/Improper Handwashing/Handwashing Sup.

Lack of/Unsanitary/Condition Walls/Floors/Ceilings

REINSPECTION SCHEDULED

ROUTINE INSPECTION

   

10/30/2012

Improper Sanitizer Concentration/Method

Evidence of Vermin Activity/Presence of Animals/Insects

Signs/Labels/Menu Board/Trans Fat-Missing/Incorrect/Lack of Food Handler Card

Improper Holding Temperatures of PHF

Improper Food Storage/Receiving

Lack of/Unsanitary/Condition Walls/Floors/Ceilings

Unsanitary Equipment/Utensil/Linen/Plumbing

FOLLOW-UP INSPECTION

   

06/27/2012

Unsanitary Equipment/Utensil/Linen/Plumbing

Lack of/Unsanitary/Condition Walls/Floors/Ceilings

Signs/Labels/Menu Board/Trans Fat-Missing/Incorrect/Lack of Food Handler Card

ROUTINE INSPECTION

   

06/12/2012

Signs/Labels/Menu Board/Trans Fat-Missing/Incorrect/Lack of Food Handler Card

Change Room Improper Use/Lack of

Lack of/Unsanitary/Condition Walls/Floors/Ceilings

Improper Food Storage/Receiving

Unapproved Pesticides/Chemicals/Labeling

Unsanitary Equipment/Utensil/Linen/Plumbing

Improper Holding Temperatures of PHF

REINSPECTION SCHEDULED

FOLLOW-UP INSPECTION

   

03/01/2012

Unsanitary Equipment/Utensil/Linen/Plumbing

Lack of/Unsanitary/Condition Walls/Floors/Ceilings

ROUTINE INSPECTION

   

02/16/2012

Lack of Food Protection Manager Certificate

Improper Holding Temperatures of PHF

Inappropriate Sanitizer Level/ Lack of Test Strips

Unsanitary Equipment/Utensil/Linen/Plumbing

Lack of/Improper Handwashing/Handwashing Sup.

Lack of/Unsanitary/Condition Walls/Floors/Ceilings

REINSPECTION SCHEDULED