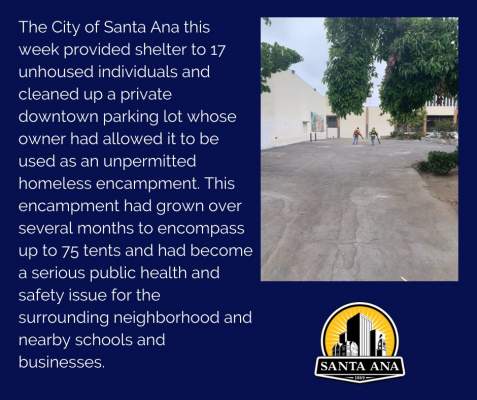 The City of Santa Ana this week provided shelter to 17 unhoused individuals and cleaned up a private downtown parking lot whose owner (El Centro Cultural de Mexico in DTSA) had allowed it to be used as an unpermitted homeless encampment. This encampment had grown over several months to encompass up to 75 tents and had become a serious public health and safety issue for the surrounding neighborhood and nearby schools and businesses.
After many City attempts to work with the property owner and offer shelter to those living there, the City finally reached a settlement agreement in March in which the property owner agreed to clear the property within 45 days. During that time, the City provided portable toilets, a wash station and two outreach events where shelter and supportive services were offered.
However, the property owner failed to meet the April 30 deadline, so the City obtained an abatement warrant, which was served this week without incident. Of those who still remained at the site, 17 accepted shelter. The City stored their belongings and the parking lot was cleared of trash and debris. The City also secured hotel rooms to offer the homeless who met the qualifications for the Project Roomkey program.
The City continues to address homelessness through a compassionate outreach approach with the goal of helping unhoused individuals enter shelter and housing and get access to supportive services. At the same time, we want to protect our community from the negative impacts of homeless encampments and activity.
In March, our multi-agency Quality of Life Team had 168 interactions with people experiencing homelessness, while our homeless outreach contractor, City Net, had 445 contacts, leading to many homeless individuals being placed in shelters and getting the help they need.
Learn more about the City's efforts to address homelessness: https://www.santa-ana.org/homelessness/interim-homeless-shelter-link/santa-ana-homeless-services-data-dashboard.