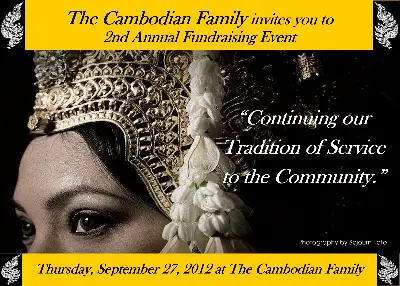 The Cambodian Family 2nd Annual Fundraising Event is set for Thursday, September 27, 2012, from 6:00pm until 9:00pm, at 1626 E. 4th Street, in Santa Ana.
The Cambodian Family would like to invite you to attend our Second Annual Fundraising Dinner. Please join us as we "Continue our Tradition of Service to the Community."
U.S. Rep. Loretta Sanchez, Dr. Nak Chhiv and the Capital Group Companies will be honored.
Thursday, September 27, 2012
6:00p – 7:00p Registration and Silent Auction
7:00p – 9:00p Program and Dinner
Business attire
Tickets $75 each
Please RSVP by September 13, 2012
Contact: Armen Bazikian at 714-571-1966 ext. 104
Email: armenb@cambodianfamily.org
For invitation click here: http://tinyurl.com/TCF2012fundraisingevent
To purchase a ticket or sponsor click here: www.cambodianfamily.org
If you are unable to attend the event, you can still support us buy purchasing a raffle ticket for $1! You do not have to be present to win the prize. Raffle prize: iPad 2 (value $399)
Purchase a ticket here or from any TCF staff member: www.cambodianfamily.org.
About Cambodian Family
In the early 1980s, a large wave of Cambodian refugees who had escaped the "killing fields" of the Communist Khmer Rouge regime began coming to the United States. Many came to Orange County and settled in the Minnie Street neighborhood of Santa Ana, California, where crowded apartment complexes offered some of the lowest rents in the County. In 1982, the five Cambodian refugees who made up The Cambodian Family's Board of Directors, along with a few other dedicated members, pooled resources, rented a small apartment, and began helping other Cambodians who lived in the neighborhood. Those Cambodians who could speak some English provided free English classes, adjustment counseling, and emergency translation to their monolingual neighbors.
In 1983, we received our first funding, a $64,000 grant from the Federal Office of Refugee Resettlement, to provide Employment Services, and this program has continued to expand in scope and funding since that time. As time passed, other programs were added in response to community needs, including ESL, vocational training, an after school Youth Program, an early childhood development program for school readiness, health accessing and trauma resolution.
Over the years, we have broadened our clientele from Cambodians only, to also include immigrants and refugees from all over the world, including Vietnam, Laos, Iran, Iraq, Afghanistan, Russia, Ukraine, Bosnia, Ethiopia, and Somalia.
We have built trusting relationships with the clients, and with institutions and community-based organizations with whom we collaborate; and we've established a broad base of expanding employer support. Since we began services in January, 1983, we've successfully managed over $20,000,000 in publicly and privately-funded grants, and helped thousands of refugees overcome barriers to find jobs, adjust and better their lives.