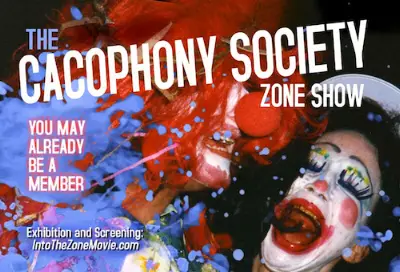 GRAND CENTRAL ART CENTER, Downtown Santa Ana, CA, a unit of Cal State University Fullerton's College of the Arts
INFORMATION BELOW ON:
THE CACOPHONY SOCIETY ZONE SHOW: YOU MAY ALREADY BE A MEMBER, February 4 – April 15, 2012
HERE IN YOUR SPACE: GUY BEN-NER, CHRISTIAN JANKOWSKI and GILLIAN WEARING, February 4 – April 15, 2012
SATURDAY, FEBRUARY 4 EVENTS:
OPENING RECEPTION: 7:00-10:00 p.m. (GCAC – Free)
COCKTAIL RECEPTION: 3:00-4:00 p.m. (Yost Theater – Ticketed Event)
FILM BENEFIT SCREENING: 4:00 p.m. (Yost Theater – Ticketed Event)
Q&A MODERATED BY MARK FRAUNFELDER (boingboing.net): 5:30 p.m. (Yost Theater – Ticketed Event)
BLOCK PARTY: 6:30-11:00 p.m. (2nd Street – Free)
DETAILS:
THE CACOPHONY SOCIETY ZONE SHOW: YOU MAY ALREADY BE A MEMBER, February 4 – April 15, 2012
EXHIBITION:
The Cacophony Society Zone Show is a retrospective look at the Cacophony Society, a national collective of guerrilla artists, dada pranksters and various eccentrics pursuing "experiences beyond the mainstream." Dedicated to activities mocking societal expectations, sacred cows and good taste, The Cacophony Society evolved from the San Francisco Suicide Club and its members were chief organizers of the Burning Man Festival in Northern Nevada.
The Society's pranking served as inspiration for the activities of Project Mayhem in Chuck Palahniuk'sFight Club. The exhibition transforms the museums main gallery into a wildly immersive environment filled with photos, graphics, video, props, costumes, and original art from Society events.
BLOCK PARTY:
The Feburary 4th opening will be celebrated with a block party featuring carnivalesque music and performance from Fancy Space People, Clowns & Fetuses, Bieno Svengali, Eric Cash and other artists associated with the Society.
COCKTAIL RECEPTION, FILM BENEFIT SCREENING AND Q&A (*Ticketed Events): This benefit preview screening of the documentary Into the Zone: The Story of the Cacophony Society will be held at the historic Yost Theater, only a few blocks from the Grand Central Art Center. From 3-4pm, a cocktail reception will be held at the theater's bar, followed
by screening and Q&A with Mark Fraunfelder (boingboing.net) interviewing filmmaker Jon Alloway and Cacophony instigators John Law, Danger Ranger, Chuckles Klown, and Reverend Al. The film features extensive rarely seen footage as well exclusive interview of Chuck Palahniuk on his experiences with the Society. Advance tickets advised.
(Recently re-opened, this 100-year-old theater formerly served the area in a dual capacity: vaudeville palace upstairs and basement holding cells dedicated to Orange County drunks and criminals.)
ACKNOWLEDGEMENT:
In-Kind support of this exhibition and programs provided by: Yost Theater
Media support provided by: Juxtapoz Magazine
CURATOR:
This exhibition was organized by former Grand Central Art Center Interim Director Mike Mcgee, members of the LA Cacophony Society and students of Cal State Fullerton's Exhibition Design/Museum Studies Program.
HERE IN YOUR SPACE: GUY BEN-NER, CHRISTIAN JANKOWSKI and GILLIAN WEARING, February 4 – April 15, 2012
Image credit: Guy Ben-Ner, Stealing Beauty (2007). Collection of William and Ruth True, Seattle
PROJECT ROOM GALLERY:
Here in Your Space focuses on the work of three artists – GuyBen-Ner, Christian Jankowski and Gillian Wearing – engaging in private/pubic space. In the home setting displays of Ikea, the aisles of a supermarket and atrium of a shopping mall, the artists use the medium of video to capture their own private performative actions within these public spaces. All three videos occur in corporate environments – the privately owned spaces that, for much of United States
society, have become our defacto places for public gathering.
In light of the economic situation in the United States over the past few years, theissues of individual rights within perceived public space are increasingly at the forefront of the national dialogue. Stories in the news describe squatters claiming foreclosed homes, now owned by banks which received government (public) bailouts; individuals camping out for holiday or ticket sales on private property vs. those camping out in support of the Occupy Movement on public property; and New York's Zuccotti Park, which brought forward the topic of hybrid models referred to as POPS (Privately-Owned-Public-Space).
The works in this exhibition question the anticipated norms of behavior in public and private settings – the attempts of individuals to claim private and public owned properties as their own personal space. They blur the boundary of public vs. private, your space vs. mine.
ACKNOWLEDGEMENT:
This exhibition is made possible through the generous loan support of: William and Ruth True, Seattle Regen Projects, Los Angeles Christian Jankowski, Berlin
CURATOR:
This exhibition was organized through the joint vision of Grand Central Art Center's Krystal Glasman, Matthew Miller and John D. Spiak.
PARKING:
Car Parking on 3rd Street (structure @ Sycamore) / Bike Parking on 2nd
GALLERY HOURS:
Closed Mondays and Holidays
Tuesdays – Sundays 11.00 am – 4.00 pm.
Extended hours: Friday & Saturday 11.00am – 7.00 pm.
(First Saturday of the month galleries are open until 10.00 pm)
http://www.grandcentralartcenter.com/maps.php