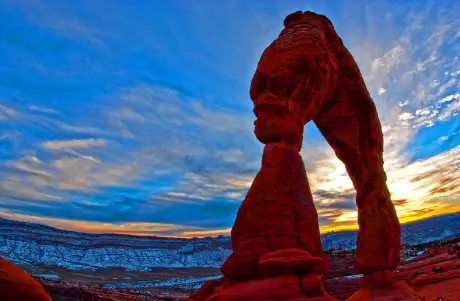 For Immediate Release from Showcase Gallery & ARTShop
Sunrise to Sunset Group Exhibition
Featured Artist George Kaczmarek
Second Saturday Opening Reception
March 12, 2011 ~ 4:00-7:00 PM
JOIN US! LIVE PERFORMANCE
Steve Harris Jazz Collective!
Delicious Food and Drink! PARTY!
Photographer George Kaczmarek has gravitated to legendary regions around the world and he comes away with the most memorable images ever taken of the subject! Many of these images will be the focus of the award winning exhibition Sunrise to Sunset by featured artist George Kaczmarek in the Showcase Gallery Group Exhibition March 12- April 15th. "Twilight at Delicate Arch, is a masterpiece of photography, says Arizona Highways photographer, Steve Gilb; Kaczmarek captured Delicate Arch, when others are reluctant to make the trek in the cold and forbidding weather." This image nearly cost Kaczmarek his camera when it fell near a deep black hole in the canyons, one of those bottomless pits!
"George Kaczmarek's work in the Sunrise to Sunset Exhibition at Showcase Gallery is a breath taking presentation; over twenty powerful, award winning images taken throughout the world, one of a kind images that rival many of the greatest pictures ever taken. Mr. Kaczmarek's exhibition is a memorable example of the great achievement of photography in the digital era."
George Kaczmarek and juried members of OCFA Showcase Gallery exhibiting in the Sunrise to Sunset will meet guests at the reception to talk about their work. Live music is provided by the Steve Harris Jazz Collective, and refreshments and appetizers will be served. To see images of Mr. Kaczmarek's work go to www.gkphoto.com.
See attached image: Twilight at Delicate Arch, Arches National Park, Utah, Arches National Park is in the United States in eastern Utah. It is known for preserving over 2000 natural sandstone arches, including the world-famous Delicate Arch, in addition to a variety of unique geological resources and formations. Since 1970, forty-three arches have toppled because of erosion… Excerpt from The Nature of Patterns North America, by Margie Tabor Zuliani and George Kaczmarek.
Showcase ARTShop Jewelry
The Spring Collection
Treasures in the ARTShop:
Glass
Books
Ceramics
Mixed Media
Fine Art Prints
Photography
Greeting Cards
Fine Arts Prints
The artwork displayed in the ARTShop shows a wide variety of techniques and talents. It is a great place to stop by when you visit the gallery, you can always find a nice gift for someone or treat yourself to a unique creation! If you are interested in submitting your work to be juried into the ARTShop please contact the gallery for more information!
OCFA Art Center
Showcase Gallery: Sunrise to Sunset Group Exhibition
Bear Street Gallery: Studio & Gallery
OCFA Artist's Studio: Private Tours
OCFA Studios ~ Presents
ART Forum
Speaker Steve Gilb
Thursday, March 24th 7:00 PM
Photographer and author Steve Gilb will take you on a trip through the professional world of photography. Some topics of Mr. Gilb's presentation will include! Why and how he picks a destination or country. How many months he plans ahead. The selection process of the camera equipment he'll take along. How he packs seventy plus pounds of equipment and still has room for clothing.
He will have much of his equipment on display to show what's really involved. Extent of trip once he arrives at his destination. How he hires private guides and drivers. He will also be showing a slide show on a big screen of some of his more challenging images and tell the story behind them!
For more information contact: SHOWCASE GALLERY 714-540-6430
Gallery Hours:
Wed. 10:30 AM – 2:00 PM
Thurs. – Sat. 10:30 AM – 5:30 PM
Sunday 11:30 AM – 3:00 PM
www.orangecountyfinearts.com
Showcase Gallery Spring Happenings
Orange County Fine Arts Center
South Coast Plaza Village
3851 South Bear Street, Suite B-15
Santa Ana, CA 92704 – 714-540-6430