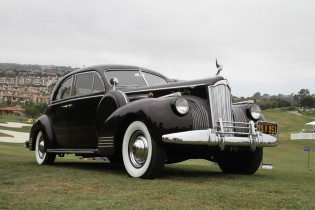 Cars & Cockpits – Packards – March 13
March 13, 2011, from 10:00 to 12:00
PACKARDS INTERNATIONAL CAR CLUB
SEE THE WORLD'S ONLY 1941 PACKARD SUPER 8 ROLLSON CONVERTIBLE LIMOUSINE
SANTA ANA, Calif.,—Lyon Air Museum, a premier Southern California showcase for vintage military aircraft and automobiles, is scheduled to host dozens of rare Packard classic automobiles as part of "Cars & Cockpits Day," scheduled for Sun., March 13, 2011, from 10 a.m. to noon at the facility, located on the west side of Orange County's John Wayne Airport. (NOTE: Weather permitting.)
The classic Packard motor cars—many pre-WW II era—will be driven by members of the Packards International Car Club from across Southern California. Packard was an American luxury-type automobile built by the Packard Motor Car Company of Detroit, Mich., and later by the Studebaker- Packard Corporation of South Bend, Ind. Packard automobiles were produced from the early 1900s through 1958.
"We're eager to host this event because it enables visitors to view some of the rarest Packard marques and at the same time have an opportunity to experience the Museum," said Mark Foster, president of Lyon Air Museum.
Scheduled to be on display will be the world's only 1941 160 Packard Super 8 Rollson convertible limousine, once owned by the Rockefeller family.
The purpose of Packards International Motor Car Club is the preservation and promotion of all Packard automobiles and all material pertaining to them; to provide a point of exchange for information and material related to same; and to provide and promote events, tours, and exhibitions featuring Packard Motor Cars. The Southern California regional headquarters of the Packards International Car Club is housed at Custom Auto Service, 302 French Street, Santa Ana.
The 30,000-sq.ft. Lyon Air Museum opened in Dec. 2009. The facility represents the fulfillment of a dream of Maj. Gen. William Lyon, USAF (Ret), who held the position of Chief of the U.S. Air Force Reserve from 1975 to 1979. Currently, Gen. Lyon is Chairman of the Board and CEO of William Lyon Homes, Inc., Newport Beach, Calif. His passion for aviation history and youth education is the driving force behind Lyon Air Museum. In establishing the Museum, Gen. Lyon sought to create a world-class facility that would be available to the local community and would offer educational exhibits designed to inspire young people. The Museum has on exhibit some of the world's rarest operational aircraft and vehicles.
Lyon Air Museum is located at 19300 Ike Jones Road, Santa Ana, CA 92707. P: 714/210-4585. F: 714/ 210-4588. Email: info@lyonairmuseum.org. Web: www.lyonairmuseum.org. Hours of operation are daily from 10 a.m. to 4 p.m. Admission rates: General admission–$8; Seniors and Veterans–$6; Ages 5-17–$4; Under age 5—Free. Groups of 10 or more–$1 off each visitor. Pre- arranged school groups—Free. Media Contact: Ned Madden Rodheim Marketing Group 949/547-0143