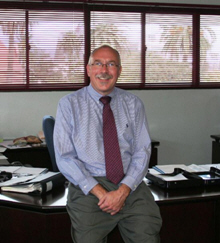 "50 Years of Keeping Taxpayers Informed: The Brown Act "
Speaker: Nick Chrisos, Esq., County Counsel for the County of Orange – The Lawyer to "Orange County"
Please join us for our next installment in our series "Your Top Government Lawyers." Our speaker and honorary will be Nick Chrisos, Esq. Nick was appointed County Counsel by the Orange County Board of Supervisors in 2009 and he heads the county's team of lawyers. He is an expert on the rules of open government and transparency. You will not want to miss his presentation.
When: 12:00-1:30
Wednesday, May 25, 2011
Lunch served promptly
Where: South Coast Winery Restaurant (3608 Bristol, Santa Ana).  Corner of Bristol & MacArthur.
RSVP: Online or nparikh@law.whittier.edu
Keith E. Rodenhuis
President, Whittier Law School Alumni Assoc.
Orange County Chapter
Nick Chrisos, Esq.
COUNTY COUNSEL, County of Orange
As the head of the County's civil litigation team, Chrisos manages the legal advisement and representation for The County of Orange, the Orange County Board of Supervisors and all 24 Orange County departments and agencies.
June – Deborah Kwast, Esq., Orange County Public Defender
A voice for the poor, the Orange County Public Defender provides legal representation to those unable to afford a lawyer in criminal, juvenile, mental health and dependency cases. Today over 185 Orange County Deputy Public Defenders, Alternate Defenders and Associate Defenders, with the support of Investigators, Paralegals and Clerical staff, provide legal representation in approximately 65,000 cases annually.
Event Info
Wednesday, June 29, 2011
Noon – 1:30 (Lunch served promptly)
South Coast Winery Restaurant
(Corner of Bristol & MacArthur)
Do you know someone worthy of Legal Leader Award?
In 2009 I created the Legal Leaders Award so we could honor attorneys who have made significant contributions in the area of law and/or distinguished themselves in their area of legal practice. Over the past two years the OC Chapter of the Whittier Law School Alumni Assoc. has hosted and recognized an impressive list of judges, elected officials and prominent attorneys – as our list grows in stature, so does our ability to attract high profile speakers and honorees. If you know of someone that fits the mold of a Legal Leader and is willing to be recognized by our law school alumni please contact me so they can be considered. Working together we can ensure the continued success of our Legal Leaders lunches.
Sincerely,
Keith Rodenhuis
Alumni President, OC Chapter
Whittier College School of Law