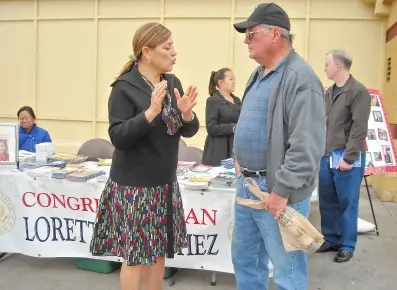 Congresswoman Loretta Sanchez, Representing California's 47th Congressional District
MEDIA ADVISORY, FOR IMMEDIATE RELEASE: March 15, 2011
MEDIA CONTACT Adrienne Watson 202-309-0825
REP. LORETTA SANCHEZ TO PRESENT $172,500.00 GRANT CHECK, DISCUSS FORECLOSURE CRISIS AT NEIGHBORHOOD HOUSING SERVICES OF ORANGE COUNTY
WHO: Congresswoman Loretta Sanchez; Glenn Hayes, President/CEO of Neighborhood Housing Services of Orange County (NHS-OC); Richard Castro, NeighborWorks; and personal testimonies (TBD).
WHAT: Congresswoman Loretta Sanchez will present NHS-OC with a check for $172,500.00 in grant funds awarded by NeighborWorks. Rep. Sanchez will also discuss what she and her colleagues in Congress are doing to combat the foreclosure crisis. Specifically, Rep. Sanchez will speak on her recently-introduced amendments to help struggling families stay in their homes by making mortgages more affordable and the need to save the Neighborhood Stabilization Program (NSP) that is slated to be eliminated by Congress this week. The other speakers will address similar concerns.
WHEN: Friday, March 18, 3:00p.m. (PST).
WHERE: Neighborhood Housing Services of Orange County
198 W. Lincoln Avenue, 2nd Floor
Anaheim
Congresswoman Loretta Sanchez is proud to represent California's 47th Congressional District, which includes the cities of Anaheim, Garden Grove, Santa Ana, and parts of Fullerton in Orange County. She serves as Ranking Member of the House Armed Services Subcommittee on Strategic Forces and a senior member of the Committee on Homeland Security. Rep. Sanchez is also a member of the fiscally conservative Blue Dog Coalition and sits on the bipartisan, bicameral Joint Economic Committee.
# # #
United States House of Representatives
1114 Longworth House Office Building • Washington, DC 20515
Phone: 202-225-2965 • Fax: 202-225-5859