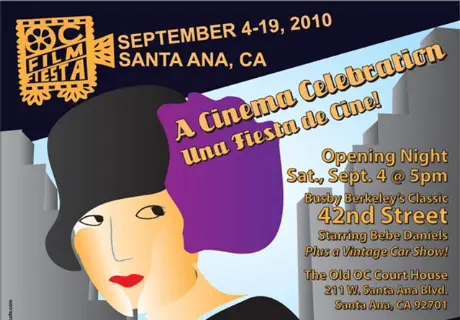 The Santa Ana Film Fiesta is a film festival component of The City of Santa Ana's 2010 "Fiestas Patrias – Fiestas de Independencia" Mexican Bicentennial events. It's a celebration of the Santa Ana's Latino heritage through cinema and an educational tour of Santa Ana's historic roots.
Opening night is on Sep. 4, at 5 pm.  The festival will continue through Sep. 19.  Watch Busby Berkeley's classic 42nd Street, starring Bebe Daniels, plus a vintage car show, at the Old OC Courthouse, located at 211 W. Santa Ana Blvd., in downtown Santa Ana.  Click here for the full Film Fiesta schedule.
This unity-building event will provide downtown audiences, both new arrivals and traditional families, with entertaining events throughout the City of Santa Ana that deepen relationships with local cultural groups, businesses, colleges and the film industry.
Every year, over 200,000 visitors attend Santa Ana's "Fiestas de Independencia" Mexican Independence Day festivities centered along historic 4th Street, "La Calle Cuatro." This year will feature musical artists Aleks Syntek, Maria Jose, Paty Cantu and Elefante. The Santa Ana Film Fiesta will add a vital new dimension to these traditional festivities by celebrating Santa Ana's cultural diversity through a selection of feature films, documentaries and shorts.
Join us for this year's new and dynamic Film Fiesta, a cinema celebration in the historic heart of downtown OC!
The Santa Ana Film Fiesta will be produced by Sandra Peña Sarmiento (aka "Pocha Peña"), an award-winning filmmaker, artist and writer who has directed film festivals in California and Texas. Sandra is the founder of POCHARTE Gallery, an influential arts space which operated for several years in Santa Ana's Santora Building.
For more info visit http://www.ocfilmfiesta.org/ for more information
Click here to RSVP on Facebook.