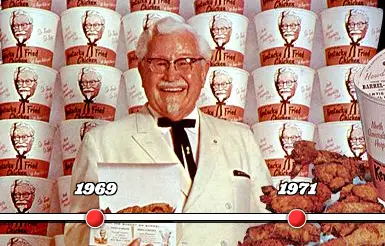 MEDIA ALERT for May 26
The Real KFC Colonel Visits Santa Ana, Costa Mesa and Lake Forest KFCs May 26 as Part of 120th Birthday Tour
The (real) KFC Colonel from Louisville, Ky., will be at three (3) local KFCs in Santa Ana, Costa Mesa and Lake Forest on Thursday, May 26 as part of his 120th Birthday Original Recipe Tour of KFC restaurants throughout Southern California in May.
The second-generation Colonel will be checking in with KFC cooks to ensure that they are preparing Original Recipe® Chicken the way Colonel Sanders intended – and will be talking to customers and the media.
WHEN: Thursday, May 26, 2011
(Please see restaurant-specific visit times below)
WHERE: KFC in Santa Ana – 11 a.m. to 11:45 a.m.
1345 S. Main St., Santa Ana, CA / (714) 542-4771
KFC in Costa Mesa – 12 p.m. to 12:45 p.m.
465 E. 17th St., Costa Mesa, CA / (949) 642-5943
KFC in Lake Forest – 1 p.m. to 1:45 p.m.
24541 Trabuco Canyon, Lake Forest, CA / (949) 768-7332
CONTACTS: Chris Yemma – (714) 881-2412 or cyemma@dgwb.com
Chris Payne – (909) 208-5850 (onsite)