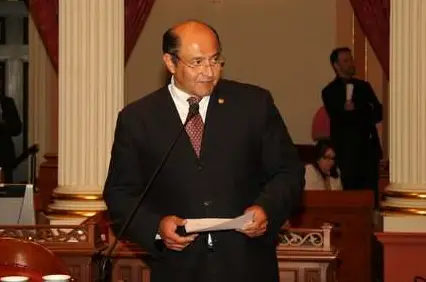 NEWS RELEASE
Senator Lou Correa, 34th Senate District
For Immediate Release: May 31, 2011
Contact: Lina Hamilton, (916) 651-4034
Senate Approves Correa Bill to Increase Accountability to Real Estate Industry in California
FROM ARCHIVE: California State Senator Lou Correa presenting a bill during Senate Floor Session.
SACRAMENTO, CA – Today, the California State Senate approved Senate Bill 510 (SB 510), introduced by Senator Lou Correa (Orange County). SB 510 will add accountability to the managers of real estate branch offices by ensuring that managers' licenses can be sanctioned for failure to supervise.
"Consumers buying or selling their homes should expect accountability and responsibility when dealing with real estate agents. Unfortunately, many California homeowners have lost their home due to real estate transactions and wrongful acts done by unlicensed or unsupervised representatives," said Senator Correa.
According to the California Department of Real Estate, there are approximately 533,000 state-licensed real estate agents and brokers in California. Consumers rely on these licensees to provide sound advice in millions of real estate transactions annually, valued in the billions of dollars.
Existing California law does not require a real estate branch office manager to supervise salespersons that report to him or her. As a result, even though a negligent manager might have to answer to his or her employing broker, the manager's own license is not at risk for failure to supervise. The bill sets minimum standards for licensees that may be appointed as a branch office manager, and empowers Department of Real Estate to require registration of appointed managers in a form approved by the Department.
SB 510 is one of the legislative recommendations of the Department of Real Estate's Broker Supervision Task Force. The Task Force was an internal group with industry participation, set up by DRE Commissioner in 2009-2010 that looked at ways to improve the supervision of sales licensees.
In closing, Senator Correa stated: "After the painful lessons we've learned from the subprime mortgage crisis, the housing industry and legislators have to make sure that we work together to close any legislative loopholes and keep strengthening consumer's laws; thus, ensuring California's economic recovery. SB 510 is a right step on that direction."
Senator Lou Correa represents the 34th District, which includes the cities of Anaheim, Buena Park, Fullerton, Garden Grove, Santa Ana, Stanton and Westminster. ###
Lina Hamilton, Legislative Aide
Office of the Honorable Lou Correa
34th Senate District
(916) 651-4034