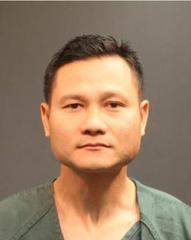 Hai Truong Vo, 39, of Garden Grove, was released by the Santa Ana Police Department without bail last night, due to "insufficient evidence," according to an email we received this afternoon from "Xuanxanh Laurie."
The O.C Register confirmed this in an article posted today.  They reported that "Prosecutors apparently have sent the criminal case against Hai Truong Vo, 39, of Garden Grove back to detectives for further investigation, Santa Ana police Cpl. Anthony Bertagna said."
On 1/13/15, detectives from the Santa Ana Police Family Crimes Unit arrested Vo, also known as "Joseph," age 39, of Garden Grove, for Child Molest. Vo is suspected of molesting a seven-year-old female in Westminster in 2011, and a six-year-old female in Santa Ana in 2013. Both victims are of Vietnamese decent.
Vo is a heating/air conditioner repairman and plumber. In both the 2011 and 2013 incidents, Vo was alleged to have entered the victim's home after he was hired to perform repairs. Once inside the home, Vo was alleged to have found an opportunity to be alone with the victims.
Santa Ana police are continuing to ask the public for help in identifying additional victims.  Anyone with information is asked to call Santa Ana police at 714-245-8351.