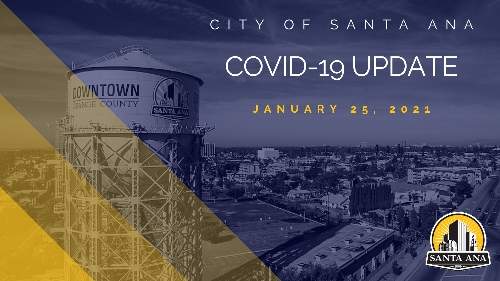 STAY AT HOME ORDER LIFTED
Santa Ana and Orange County are no longer in a Stay at Home Order and have returned to the Purple Tier of COVID-19 restrictions, which allows outdoor dining, hair salons to open with modifications and other limited operations.
Officials with the California Department of Public Health (CDPH) today ended the Regional Stay at Home Order for all regions statewide because four-week ICU capacity is above 15%. This allows counties to return to the rules and framework of the Blueprint for a Safer Economy and color-coded tiers that indicate which activities and businesses are open based on local case rates and test positivity.
While there are positive signs that the virus is spreading at a slower rate across the state, the COVID-19 pandemic is far from over. It is still critical that Californians continue to wear masks when they leave their homes, maintain physical distance of at least 6 feet, wash their hands frequently, avoid gatherings and mixing with other households, follow all state and local health department guidance, and get the vaccine when it's their turn.
The Limited Stay at Home Order curfew, which limits non-essential activities between the hours of 10 p.m. and 5 a.m., expired with the Regional Stay At Home Order.
• Current Pandemic Restrictions: https://covid19.ca.gov/safer-economy/
• OC Public Health Agency FAQs: https://occovid19.ochealthinfo.com/article/oc-health-officers-orders-recommendations
• City of Santa Ana Pandemic Resources: https://www.santa-ana.org/covid19
• Orange County COVID-19 Hotline: (714) 834-2000
STREET SWEEPING TICKETS TO RESUME FEB. 2
With the end of the Stay at Home Order, the City of Santa Ana will resume issuing street sweeping tickets on Tuesday, Feb. 2, 2021.
The City is not restarting street sweeping tickets immediately in order to ensure residents are aware that tickets will be starting again.
EVICTION MORATORIUM EXTENSION
State lawmakers today announced a deal to extend the statewide residential eviction moratorium through June 30, 2021. The legislation must be approved this week in order to go into effect before the current moratorium expires on Feb. 1.
More details will be available after the eviction bill is approved.
The federal Centers for Disease Control already extended its temporary halt on residential evictions until at least March 31, 2021. For more information, go to: https://www.cdc.gov/coronavirus/2019-ncov/covid-eviction-declaration.html
COVID-19 TESTING
• At-Home Saliva Test: https://oc.care.ambrygen.com/#/cit/landing
• At-Home Nostril Swab Test: https://picturegenetics.com/covid19
• OC COVID-19 Testing Network: Community health centers offer free testing without insurance for people with symptoms. Info: https://occovid19.ochealthinfo.com/oc-covid-19-testing-network-those-symptoms
• County Super Sites: Drive-through testing BY APPOINTMENT ONLY. Anaheim Convention Center (800 W. Katella Ave., Anaheim) and OC Fair & Event Center (88 Fair Drive, Costa Mesa). Make an appointment: https://360clinic.fulgentgenetics.com/appointment/screen/landing
• Walk-Up State Testing Sites: Free testing at Buena Park, Orange and Santa Ana locations. Info: https://lhi.care/covidtesting
• Clinics, Pharmacies and Urgent Care: https://occovid19.ochealthinfo.com/testing-resources-orange-county
• More Testing Information: www.santa-ana.org/covid19/free-covid-19-testing
VACCINE DISTRIBUTION
The OC Public Health Agency has opened two Super Point of Distribution Sites for vaccinations in Anaheim and Aliso Viejo, with plans to open three more. Vaccines are BY APPOINTMENT ONLY and are currently being provided to healthcare and emergency services workers and people age 65 and older.
More information: https://occovid19.ochealthinfo.com/covid-19-vaccine-resources.
RENTAL ASSISTANCE
Get help paying rent from the City of Santa Ana if you have been financially impacted by COVID-19. Santa Ana residents only. Info: www.santa-ana.org/covid19/rental-relief/cares-for-tenants
BUSINESS RESOURCES
• Paycheck Protection Program: From January 13, 2021, until March 31, 2021, the Small Business Administration is accepting Second Draw PPP loan applications from participating lenders. The loans can be used to help fund payroll costs, including benefits. Funds can also be used to pay for mortgage interest, rent, utilities, worker protection costs related to COVID-19, uninsured property damage costs caused by looting or vandalism during 2020, and certain supplier costs and expenses for operations. Info: https://www.sba.gov/funding-programs/loans/coronavirus-relief-options/paycheck-protection-program/second-draw-ppp-loans
• Small Business Grants: The Santa Ana Small Business Incentive Program provides grants of $5,000 for businesses with 5 or fewer employees. Info: www.santa-ana.org/SBIP2
• Economic Injury Disaster Loan: SBA announced that the deadline to apply for a COVID-19 pandemic Economic Injury Disaster Loan (EIDL) has been extended to Dec. 31, 2021. Info: www.sba.gov/funding-programs/loans/coronavirus-relief-options/economic-injury-disaster-loans