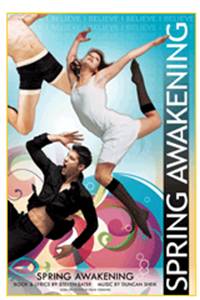 THEATRE OUT TO OPEN AWARD-WINNING HIT MUSICAL "SPRING AWAKENING"
Santa Ana, CA (3/29/2012) – Theatre Out, Orange County's gay and lesbian theatre company, who brought you recent hits Avenue Q and The Wild Party is pleased to present the Tony Award-Winning musical SPRING AWAKENING beginning April 6, 2012. Running through May 5, this moving musical relives the trials and tribulations of becoming an adult.
Adapted from Frank Wedekind's 1891 expressionist play about the trials, tears, and exhilaration of the teen years, SPRING AWAKENING has been hailed as the "Best Musical of the Year" by the New York Times, New York Post, Star Ledger, Journal News, New York Observer, and USA Today. The evocative and original score is by Duncan Sheik with lyrics and book by Steven Sater. The play centers around the budding relationship of Wendla and Melchior as they discover who they are and what their place in the world is. Their friend, Mortiz, struggles with the same issues but sees himself as lacking the ability and support to overcome issues – he is hopeless and helpless and reaching out for someone who is not there. Dealing with themes of sexual maturity, suicide, incest, child abuse, teen pregnancy and suicide, the musical draws a sharp parallel between today's world and that of more than 100 years ago and asks the question: is society still as out of touch with the youth of the day today?
"Spring Awakening is an amazing musical," commented David C. Carnevale, Managing Director of Theatre Out and director of this production. "It's power lies in the universal truths that it presents as the audience sees the sexual awakening and maturity of this group of teenagers. There are little bits of us all in these characters – we've all experienced these growing pains."
"In two hours, Spring Awakening aims to change your perspective of our society," commented Joey Baital, Theatre Out co-founder and producer. "It's a musical that takes the audience on a journey that is at times funny, at times moving and always unforgettable."
Under the direction of David C. Carnevale and vocal direction of Deb Barker-Garcia, the cast includes Rachelle Rose Clark, Chris Hull, Jeffrey Fargo, LeAnn DeLano, Stephanie Inglese, Jared Ryan Kaitz, Joey Nestra, Frankie Rodriguez, Jake Saenz, Lexy Baeza, Misa Moosekian, Nicki Peek and Anthony Galleran with choreography by Darcy Hogan and Alissa Sanchez.
Spring Awakening contains adult material and nudity.
Tickets for SPRING AWAKENING are $25 General admission and $20 for students with valid student ID and can be purchased at www.theatreout.com or at the Box Office on the night of the performance. All performances are at The Empire Theatre located at 202 N. Broadway in Santa Ana's Artist Village. Peformances begin April 6, 2012 through May 5, 2012; Fridays and Saturdays at 8:00 pm with select Thursdays at 8:00pm and select Sundays at 2:00 pm. Special discounted performances are available.
Press inquiries should be made to David C. Carnevale, Managing Diretor at david@theatreout.com or by calling (714) 220-7069.
###