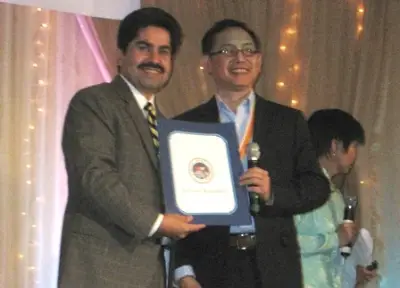 For Immediate Release: April 25, 2012
For More Information Contact: Carol Chamberlain – office: (916) 319-2069, mobile: (916) 804-5355
Media Advisory and Invitation
State Assemblyman Jose Solorio Recognizes Local Vietnamese American Month Honorees and Celebrates Passage of Assembly Concurrent Resolution (ACR) 138
ACR 138 commemorates a time of sorrow for Vietnamese people throughout the world and again officially acknowledges the significant contributions of Vietnamese Americans to the State of California
Anaheim – As a follow up to last year's resolution authored by State Assemblyman Jose Solorio (D-Anaheim) which commemorated April 2011 as Vietnamese American Month (ACR 40), Assemblyman Solorio is inviting the media and community leaders to a celebration luncheon to recognize local Vietnamese American month honorees and the passage of ACR 138 which declares the month of April 2012 as Vietnamese American Month in California.
Assemblyman Solorio will recognize distinguished Vietnamese American leaders for their significant contributions to the community. Among those honored will be Mr. Ken Khanh Nguyen (Santa Ana Commissioner and Vietnamese Ambassador to the City of Santa Ana), Mr. Phan Tan Nguu (President of the Coalition of The Republic of Vietnam Veteran Associations in Southern California), Ms. Lynn Bach (President of Nha-Trang Khanh Hoa Friendship Association), Dr. Tam Nguyen (President of the Vietnamese American Chamber of Commerce), Honorable Dina Nguyen (Garden Grove Councilwoman), and Mr. Billy Le (President of the Union of Vietnamese Student Association of Southern California).
The legislator will also brief the media on the significance of ACR 138, and will be available for interviews and photo opportunities.
WHEN:
Friday, April 27, 2012
10:30 a.m. to 12:00 p.m.
WHERE:
Zen Vegetarian Restaurant
9329 Bolsa Avenue
Westminster, CA 92683
If you would like to attend the event, please RSVP to Kim Nguyen as soon as possible via email at Kim.Nguyen@asm.ca.gov or via telephone at (714) 939-8469.
###
State Assemblyman Jose Solorio is the Chair of the Assembly Insurance Committee and also serves on the Assembly Appropriations and Transportation committees. He represents the Sixty-Ninth Assembly District, which includes the cities of Anaheim, Garden Grove, and Santa Ana. For more information about Assemblyman Solorio, visit www.assembly.ca.gov/solorio.