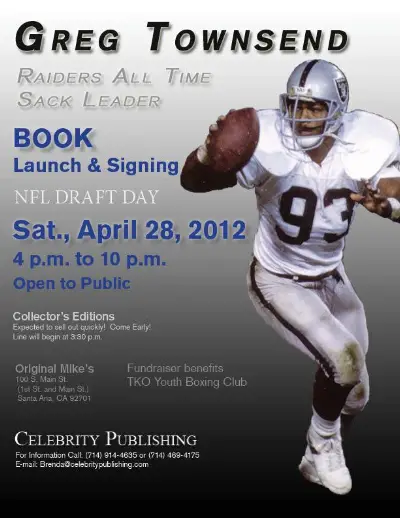 On Saturday April 28th, at 4 pm, Celebrity Publishing will be hosting the official book launch of Raiders all time sack leader, Greg Townsend's Collector's edition. The event will be located at Original Mike's in Santa Ana (100 S Main St. Santa Ana, CA 92701), located on the corner of 1st and Main St. The launch party will be located in the outside patio. You will be able to meet and greet with Greg Townsend, and a chance to enter a raffle and win prizes! A portion of proceeds will be donated to TKO Youth Boxing Club- which provides a safe alternative to at risk youth of Santa Ana. John Raya, founder of TKO states, "TKO's mission is to train tomorrow's champions of today. Just like the Raiders, we have a 'commitment to excellence' in and out of the ring. TKO is proud to team up with Celebrity Publishing and Greg Townsend for this spectacular event."
Townsend's book, All Time, was just released in hard cover by Celebrity Publishing. Greg Townsend is a former defensive end in the NFL. He was selected by the Los Angeles Raiders in the fourth round of the 1983 NFL Draft. He is the 17th on the NFL's all time list for career sacks with 109.5.
Super Bowl winning, all time sack leader, Greg Townsend takes you through his amazing career from locker room to living room. Go toe to toe with one of the legends in Raiders history…you will meet one of the elite game changers. You won't find a football story quite like this anywhere! "It is an honor to be the Raiders all time sack leader. My book Focuses on my NFL career, the highs and lows, and my lifetime dream of winning a Super Bowl. Celebrity Publishing and I have teamed up with TKO Youth Boxing Club, and for every book sold, a portion of proceeds will be donated to this organization! Silver and Black all the way! Please join me for this event."
Collector's editions are being sold at this signing event! They will be sold at a event special price of $35.00. The books are also being distributed through Celebrity Publishing at www.celebritypublishing.com .
For more information about All Time by Greg Townsend, please visit www.celebritypublishing.com or contact Brenda Villegas at (714)914-4635.