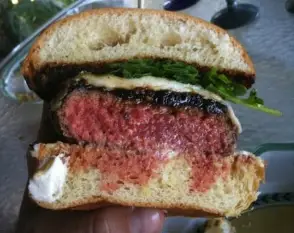 Open wide…
Jason Quinn's Playground is about ready to open up shop.  According to his Facebook page, Quinn is going to have sort of a soft opening this Saturday, Nov. 5, during the Santa Ana Art Walk.  He won't be open yet but will be letting folks have a sneak peek at his new restaurant.  Their grand opening has been set for Nov. 18-20.
Quinn is famous for his Lime Truck, which was featured on the Great Food Truck Race in the Spring of 2011.  You can read about his vision for Playground on his new website.  Apparently his dad helped fund the new business.
Quinn has assembled a very talented team, that you can read about here.  Their team includes Brad Radack, Karl Pfleider, and April Ventura.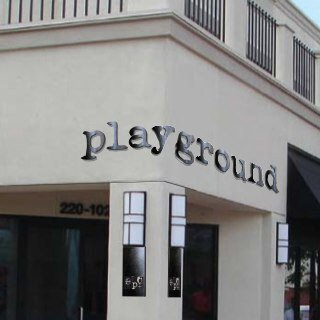 Their menu is amazing.  Have a look:
Snacks
"Bread and Butter" $4, Our handmade rolls/Your handmade butter/Garlic
Caramelized Japanese Snacks $6, Soy-sambal caramel/Shishito peppers/Edamame/Sesame
Hand Cut "Duck Fat" Fries $5, Foie fat powder/Ketchup salt/Double egg mayo
Handmade Mozzarella $7, Balsamic tomato marmalade/Basil jellies
"Steak and Eggs" $12, Chopped filet/Egg-yolk carpaccio/Parmesan toast
Crispy Fat Back $5, Cinnamon sugar/Chile-lime salt
Medium 
Smoked Trout Benedict $11, House English muffin/Elderflower hollandaise/60° farm egg
Hamachi Tartare $9, Toasted amaranth seed/Blood orange vin/Avocado
Asparagus Hot Browns $6, Add Niman Ranch Bacon $2, Grilled toast/White cheddar mornay sauce
Waldorf Risotto $8, Candied walnuts/Pickled grapes/St. Agur butter
Handmade Gnocchi $10, Chile verde/Pork belly/Cotija/Cilantro
Handmade Buccatini $11, San Marzano tomatoes/Fresh Parmesan
Seared Scallop $9, Curried cauliflower puree/Cauliflower cous cous/Bulls blood
Large
Playground Burger $14, Wagyu chuck & dry-age ribeye "torchon"/Tomme de Savoie/Maple-bourbon onions
PEI Mussels $14, Bacon/Caramelized onion/White wine/Housemade crème fraîche/Grilled toast
Maitake Mushroom Poutine $13, Housemade cheese curd/Roasted maiatake/Shallot confit/Truffle gravy/Fries
Duck Confit Salad $15, Add Seared Foie Gras $8, 5-spice vin/Candied pistachios/House greens/Cherry mostarda
Jidori Chicken Wings $12, Orange/Sriracha/Fried rice
Whole Fresh Lobster $24, 500 degree salt/6 minutes/Olive oil
Beer Drinking Plate $15 Add Jamon Iberico de Bellota $10, Whatever sounds good to us
Click here to check out their extensive craft beer list.
Playground is located at 220 E. Fourth Street, in Santa Ana.  Their phone number is (714) 560-4444.  They will be open Tuesday through Sunday, 11:30 a.m. to Close.
Playground is also accepting applications.  Download their application here.