[cardoza_wp_poll id=26]
The Santa Ana City Council majority has granted a 5 percent, $17,000 performance bonus to City Manager David Cavazos, who is the highest-paid city manager in Santa Ana history, according to the O.C. Register.
Kudos to Mayor Miguel Pulido and Councilwoman Michele Martinez for opposing this ridiculous bonus. To pay Cavazos even more money while our nation is slipping into another recession and while our city is in the midst of a gang war that the City Council refuses to acknowledge is simply mind-boggling.
By the way, the average per capita income in Santa Ana is $16,374, according to the U.S. Census Bureau, so Cavazos' bonus is more money than most folks in our city make in an entire year.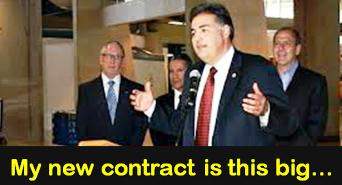 Cavazos' salary by the way totals $372,165, including bilingual pay, a housing allowance and medical cash back, and he receives $107,450 in medical, dental and retirement benefits. In 2014, Cavazos was the highest paid city manager in Orange County and the sixth-highest paid city manager in California, according to figures reported to the State Controller's Office.
The median household income in Santa Ana is $53,335, which means that Cavazos is earning close to 7 times what the average household in Santa Ana earns.
Three of the City Council Members who voted to give Cavazos this ridiculous bonus are running for re-election in November – including Council Members Angie Amezcua, Vince Sarmiento and Roman Reyna. Crime is fairly out of control in Sarmiento's and Reyna's wards and even Amezcua's ward, in north Santa Ana, has seen gang violence skyrocket over the past year.
Council Members Sal Tinajero and David Benavides also voted to give Cavazos this bonus.
Mayor Pulido rightly pointed out that giving a bonus to Cavazos while he is under investigation for canoodling with a subordinate city employee is ridiculous.
What this bonus amounts to is a way for Cavazos to pay for his alimony since he dumped his wife when he left his last job as the City Manager in Phoenix (and fleeced that city in the process as well).
It should be noted that Sarmiento is apparently running in the June Primary election this year against First District O.C. Supervisor Andrew Do. If Sarmiento loses that race, as we expect he will, he will likely run for re-election in Ward 1 in November.
[cardoza_wp_poll id=26]