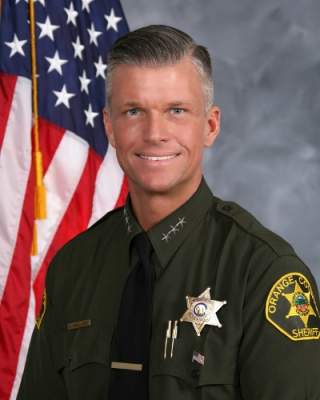 SANTA ANA, Ca. (January 13, 2021): Sheriff-Coroner Don Barnes has named Jeff Hallock, a 24-year veteran of the Orange County Sheriff's Department, as the new Undersheriff. Hallock will be responsible for the Department's day-to-day operations, overseeing more than 4,000 personnel and a $1 billion budget.
Undersheriff Hallock was promoted January 6 in a private badge pinning at Sheriff's Headquarters.
"Undersheriff Hallock is a consummate leader who serves with integrity and approaches any assignment he is given with an unwavering work ethic and a deep commitment to the betterment of this Department," said Sheriff-Coroner Don Barnes. "His breadth of experience and innovative approach to law enforcement operations will help the Sheriff's Department continue our tradition of providing exemplary service to the County of Orange."
Hallock's previous assignments include Custody Operations, Jail Planning, Patrol Operations, Investigations, Narcotics, Internal Affairs, and Public Affairs, serving as the Public Information Officer.
His accomplishments include serving as the first Field Training Bureau Commander, implementing solutions to keep the department on the leading edge of change. He served as the Public Information Officer during several major incidents that drew national attention, navigating complexities in a forthright and transparent way. Most recently, he served as Assistant Sheriff of Field Operations and Investigative Services, overseeing the department's response to multiple emergencies in 2020.