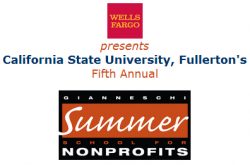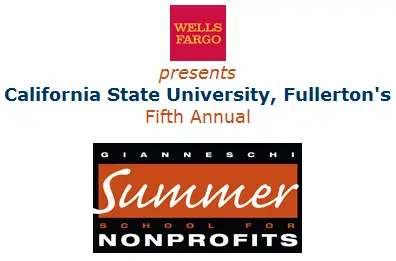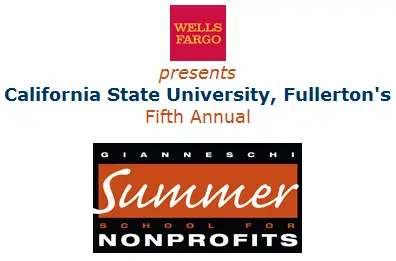 Cal State Fullerton's fifth annual Gianneschi Summer School for nonprofits is coming to Santa Ana this Tuesday through Friday,  July 13 – 16.  This course is presented by Wells Fargo.
This course is a FREE tax seminar for Nonprofit & Faith-Based Organizations, followed by half-day classes on nonprofit management topics.  Click here for more information.
NEW this year:
sales skills for fundraising
lobbying and advocacy
branding and marketing
corporate resources for nonprofits
risk management and liability
building donors for life
integrated marketing communications
Robert's Rules of Order
human resources legal issues
boards and fundraising
corporate sponsorships
nonprofit accounting and auditing
grantwriting program design
events planning
collaborative partnerships
program evaluation
communications toolbox
All events will take place on the main campus of California State University, Fullerton. The street address is 800 N. State College Blvd., Fullerton, CA 92831. The campus is located off the 57 freeway (just north of the 91 freeway) at the Nutwood Ave. exit. Campus maps and driving directions can be accessed here.
Parking
Daily parking passes are required. Campus parking is available in the Nutwood Parking Structure, off State College Blvd. at Arts Drive. From the freeway or surface streets, follow the direction signs posted on the sidewalks that will guide you to the correct entrance off Arts Drive. See Summer School for Nonprofits event parking attendants on duty for parking passes.
Tuesday: Parking is $8 (cash only; exact change appreciated). Allow extra time for purchasing permig, parking, and walking to classroom. From parking structure, follow sidewalk signs to check-in desk.
Wednesday – Friday: Paid registrants may receive a complimentary parking pass by providing their names to the parking attendant. All others, parking permits are $8 (cash only; exact change appreciated) from the parking attendant
Receipts and Class Lists
Please stop at the registration desk on your first day of class to receive your registration packet including your class list and receipt. Room numbers are on class lists.
Food
No-Host Lunch: Click here for printable map of campus and local dining options (Requires Adobe 6.0 or better).
Snacks: There is a Starbuck's open (morning hours only) in the lobby of Steven G. Mihaylo Hall. Vending machines are located throughout campus, including the breezeway and 2nd floor deck of McCarthy Hall.
Morning: Coffee and muffins will be provided on Wednesday – Friday mornings during registration and morning break.
Comfort
Attire: Casual business attire is suggested. Layered clothing recommended.
Temperature: Fullerton is known for sizzling temperatures in July, but people may find classroom temperatures to be anywhere on the spectrum from arctic to stifling.