Santa Ana Police Department
Advisory: SANTA ANA POLICE DEPARTMENT ROBBERY DETECTIVES REQUEST MEDIA AND PUBLIC'S ASSISTANCE IDENTIFYING ROBBERY SUSPECTS
Summary: Saturday, 12/20/14 at 9:57 p.m., two suspects entered Pronto Pizza located at 1734 West First Street, approached the counter where suspect #1 brandished a black semi-auto handgun from his waistband.
The suspects demanded money and an employee handed suspect #1 an undisclosed amount of cash from the register. Both suspects fled on foot, southbound through the parking lot and southbound onto Raitt Street.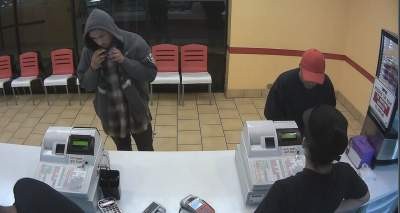 Suspect #1: Male Hispanic, 20-24 years old, 5'6", 160 lbs, black hair, brown eyes, mustache, wearing a red baseball cap, black sweatshirt, black pants, and black Nike shoes.
Suspect #2 : Male Hispanic, 20-24 years old, 5'9"-6', 160 lbs., black hair, brown eyes, wearing an open gray hooded zip-up sweater with white writing and the hood up, a black and white plaid shirt, black pants, a purple bandana over his face and gray shoes.
Location: Pronto Pizza (Commercial Business) 1734 W 1st St., Santa Ana.
SAPD Robbery Detectives believe these suspects are responsible for two additional robberies in the city of Santa Ana
1. November 11th 2014 Video Sky, 2525 West 17th Street at 5:53 p.m.
2. December 9th 2014 Radio Shack, 1601 West 17th Street at 7:48 p.m.
Anyone with information is requested to contact SAPD Robbery Detective P. McClaskey at 714-245-8328 or Orange County Crime Stoppers at 1-855-TIP-OCCS.
###