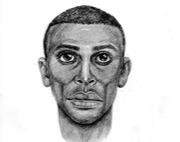 Santa Ana Police Department Advisory: Police Request Public's Help In Locating Suspect Wanted for Cat Burglary and Kidnapping – Drawing Provided
Police Request Public's Help In Locating Suspect Wanted for Cat Burglary and Kidnapping – Drawing Provided
LOCATION: 500 Blk N. Lyon Street
SUSPECT: Male Black, 40 years old, 5'05" tall, 160-170 lbs., med build, short black/gray hair, dark complexion, black "snow" type jacket, with black hooded sweatshirt underneath with unknown red writing or logo on front, dark blue denim jeans, white sneakers. Suspect may be transient.
WEAPON: None
VEHICLE: Blue Schwinn Beach Cruiser with white wall tires. (Taken From Victim#2)
SYNOPSIS: On 02/25/13, at approx. 0700 hrs, the suspect entered the victim's
residence via an unlocked door. Once inside the suspect stole $100.00 from victim's
purse while she slept. The suspect was then confronted by the victim's son. The suspect calmly fled the residence.
Later in the day approx. 1350 hrs, the same suspect returned to the same complex and forcibly entered a different apartment via a window. Once inside the suspect was confronted by a female resident, the suspect grabbed the victim and forced her to remain in her home for approx. 2-3 hours, refusing to allow the victim to leave her residence. The victim in fear for her safety complied with the suspect's demands to cook for him while the suspect ingested narcotics. The suspect then fled on the victim's blue beach cruiser. The suspect may be a transient that frequents the area.
Anyone with information is asked to call Orange County Crime Stoppers at 1-855-TIP-OCCS – 1-855-847-6227 or the Santa Ana Police Department Detective Verdugo @
714-245-8345.
###