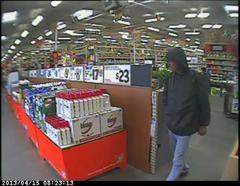 Santa Ana Police Department Advisory:
Police request media and public assistance in identifying suspect involved in Home Depot and Radio Shack robberies
On 4/15/13 at approximately 0940 hours, the victim was manning the cash register in the gardening section of The Home Depot when the suspect approached. The suspect brandished what appeared to be a gun and demanded the victim surrender the money from the cash register. The victim complied and handed the suspect approximately $500 in cash from the register. The suspect demanded the victim to walk with him towards the exit of the store. Out of fear, the victim walked approximately 15' with the suspect. The suspect told the victim he was sorry and that his wife was sick. The suspect walked out of the store and was last seen leaving on foot.
On 05/01/13 at about 1041 hours, a male subject (suspect) entered the Radio Shack located at 3670 W. McFadden Ave. The suspect was described as a male, white, 45-50 yrs., 6'0" tall, medium build, short gray hair. The suspect was wearing a green baseball hat with small dark logo on the front, dark colored hooded jacket, blue jeans, and brown hiking type tennis shoes.
The suspect approached the clerk and from his right jacket pocket exposed a dark handle resembling the handle of a handgun. The suspect told the clerk he wanted all of the money from the register and said, "I have a gun and don't want to use it." The store clerk complied and handed to victim money from the register.
The suspect asked for money from the register and Iphones. The clerk told the suspect they were out of stock on the cell phones. During this time, the clerk maintained a distance of about 10 feet between him and the suspect. The suspect then ordered the clerk to the ground. The clerk stalled for several seconds and ran out of the store via the front entrance. The suspect followed the clerk out of the store. Outside of the store, the suspect fled in a different direction.
Upon further review of the Radio Shack surveillance video, Detectives discovered the suspect matches the description of the suspect in the Home Depot surveillance video and stills.
Video and still pictures available.
ANONYMOUS TIPS Call 1-855-TIP-OCCS or 1-855-847-6227 Text TIP "OCCS" plus your tip to 274637 (CRIMES). www.occrimestoppers.org