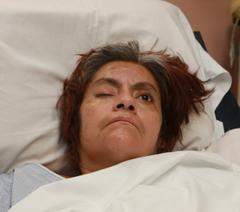 Santa Ana Police Department Advisory: Police request media and public's assistance identifying Jane Doe who was involved in a traffic collision
On October 15th , 2013, a traffic collision involving a vehicle and a woman pushing a shopping cart occurred at the intersection of 4th Street and Lacy Street in Santa Ana.
The pedestrian was rushed off to the Western Medical Center in Santa Ana in extremely critical condition. For the duration of the investigation, officers were unable to determine the woman's identity. Her fingerprints were compared in all local, state, and federal identification databases, which did not return with any matches. The woman did not match the description of any outstanding missing persons in Santa Ana.
Two and a half months later, the woman still remains fully dependent, in the care of the staff at the Western Medical Center. The woman is in a state where she cannot communicate. Her identity is still unknown.
The Santa Ana Police and Western Medical Center are seeking the public's help in identifying this woman. It is believed that she is a local resident in the area where the collision occurred. Anyone who happens to recognize the woman in the photo is urged to contact Collision Investigator Bao at the Santa Ana Police Traffic Division at (714) 245-8214.
For full details, view this message on the web.