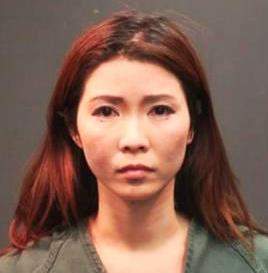 The SAPD raided the Euphora Spa, on South Bristol Street, in Santa Ana on Thursday night along with a reporter according to ABC7.
ABC7 was granted an exclusive ride-along by the SAPD to film their sting operation at Euphora Spa after the SAPD received complaints from neighbors who suspected that the Spa was in fact offering prostitution along with massages.
The police investigators found a sex-related advertisement on the website, backpage.com.  So they sent an undercover police officer to the Euphora Spa to see if in fact they were engaging in prostitution.
The undercover police officer posed as a spa customer and was able to confirm the illegal activity.
An SAPD team that was waiting outside the spa quickly moved in and shut down the location.
When no one answered the door at the spa the SAPD police team kicked down the door and then proceeded to arrest 33-year old Huong Nguyen. She was accused of soliciting herself. Nguyen is now facing a misdemeanor charge of soliciting prostitution.
The police also detained and released an unidentified male customer.
Santa Ana Code Enforcement officers also raided the spa and they found several code violations. They said they would work with the spa's landlord to shut the business down.