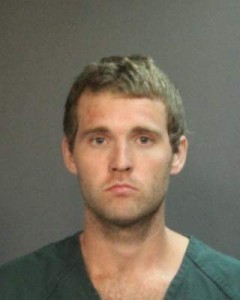 Santa Ana Police Department Advisory: Police Arrest Serial Robbery Suspect
On Sunday October 6th at approximately 11 pm patrol officers contact suspect on a bike wearing a back pack in the 100 Block East Dyer. When the officer contacts suspect Dennis Adamson (24) he advises officer that he had a handgun in his backpack. Officer also located Two- Black ski masks. Adamson matched the description of a robbery suspect who had committed two (2) armed robberies of commercial businesses in the area.
Officers obtained information that Adamson had been arrested in the City of Irvine on 10-1-2013 for narcotics violations. Using the Irvine booking photo officers put together a photo lineup to show to one of the Santa Ana robbery victims. Suspect Adamson was positively identified/arrested for the 9-22-2013 robbery of Mobil Gas Station 100 West Mac Arthur.
In his interview with Robbery Detectives it was established that suspect Adamson was responsible for 2 commercial robberies committed in Santa Ana on 9-22-2013 as well as
One Bank Robbery in Fountain Valley 8-2-2013
Two Commercial Robberies in the City of Costa Mesa 9-29-2013 & 10-3-2013
Adamson is also linked to Eight additional Bank Robberies and Two Commercial Robberies in Central California committed between 3-6-2013 and 9-14-2013.
Detectives believe Adamson may have been using the ski masks located in is possession to commit additional robberies. Requesting Police Departments, Business owners and community members who may have additional information or could have been a victim contact Santa Ana Police Department Detective Cpl. A. Silva 714-245-8545.
Released on 9-27-2013
Detectives link suspect to second Santa Ana Robbery
Location 1: 2860 S. Bristol # E, SUBWAY
Weapon: Black, semi-automatic handgun
Suspect: Male, White, 30-35, blond hair, 6'00-6'03, 150-180 lbs., wearing a black, blue, green checkered long sleeved shirt, dark pants and a black baseball cap with an unknown design.
Synopsis: On 9/22/13 at approximately 1725 hours, the above suspect entered the Subway restaurant and ordered a sandwich. When the clerk rang him up, he produced a gun ordering her to open the cash register. The clerk hid behind a wall. The suspect grabbed the sandwich and ran out of the restaurant.
Released on 9-26-2013
Crime Type: Commercial Robbery
Location: 100 W. Mac Arthur/ Mobil Gas Station
Suspect Description: Male, Caucasian, 25-30 yrs., 5'10"-6'00" tall, 180-200 lbs., short brown straight hair, light beard. Suspect wore a distinctive paper-boy cap and was armed with a black semi-auto pistol.
Synopsis: On 09/22/2013 at approximately 2345 hrs., the above pictured suspect entered the Mobil Gas Station with a gun and robbed the store clerk. The suspect fled westbound on foot with US currency.
Video available contact Police Department PIO Anthony Bertagna
Forward any information to: To Orange County Crime Stoppers 1-855-TIP- OCCS or Detective Corporal A. Silva, 714-245-8545
For full details, view this message on the web.