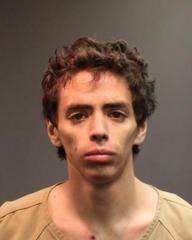 Santa Ana Police Department
Advisory: SAPD Detectives Investigate Possible Child Homicide
On Friday, 07-17-15, at approximately 8:42 pm, Santa Ana police officers were dispatched to the 800 block of W. Stevens in reference to a baby not breathing. When officers arrived, they confirmed the 3-month old infant was not breathing. Officers and OCFA personnel performed CPR on the infant and he was subsequently transported to CHOC in critical condition.
CHOC medical staff observed signs of physical trauma on the infant. The infant is currently on life support and is not expected to survive. Homicide detectives responded to handle the investigation.
The infant's father Jordan Mendez was interviewed by detectives and subsequently arrested. He was booked at the Santa Ana Jail.
Arrested: Jordan Mendez (20) Santa Ana
Charge: Assault on a child – Great bodily Injury/death
Bail: $1 Million Dollars
###