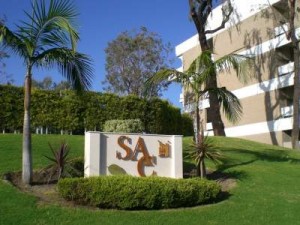 Rancho Santiago Community College District Press Release
For Immediate Release: April 12, 2013
Contact: Judy Iannaccone, Director, Communications, (714) 480-7503, iannaccone_judy@rsccd.edu
Santiago Canyon and Santa Ana Colleges Celebrate Earth Day
*April Events Spotlight Sustainability*
(Santa Ana)— Santa Ana College (SAC) and Santiago Canyon College (SCC) welcome the community to the colleges' celebrations of Earth Day. At SAC, Sustain-A-Palooza will take place on Wednesday, April 17 from 11:00 a.m. to 4:30 pm. SCC Hawk Earth Fest activities will take place at SCC on Tuesday, April 23 from 10:00 a.m. to 2:00 p.m.
The theme of SAC's Sustain-A-Palooza is "Moving towards sustainability." The event gets underway with an Inter-Club Council Fest on the quad at the center of the campus. College clubs, including the Collegiate Alliance for Positive Environmental Stewardship (CAPES), Engineering Club, Circle K Club, and others will sell environmentally responsible items to raise needed funds for club activities. A display of electric cars will also be spotlighted.
The day continues with guest speakers and documentary screenings in U-102 "The Spot":
At 1:00 p.m., SAC President Erlinda J. Martinez, Ed.D, will make opening remarks. South Coast Air Quality Management District (AQMD) will present the documentary film, "The Right to Breathe," followed by a discussion. Students will have the opportunity to win a graphing calculator, Don Bookstore gift cards, a bicycle, and more.

At 2:15 p.m., there will be a talk about water sustainability.

At 3:15 p.m., a talk by Gillian Poe, executive director of Orange County Food Access Coalition, will highlight the movement towards supporting local food systems.

At 4:30 p.m., students will view the documentary film, "Bag It." This 2010 film exposes the effects of plastic bags and other plastic consumables, and their effects on land ecosystems, the marine environment, and the human body.
"We are thrilled to present our very first Earth Day Celebration at Santa Ana College. 'Sustain-A-Palooza' is about coming together as a campus community so we can move as one towards a more sustainable future, and I am very proud of our student leaders for putting together such a milestone event," said Kimo Morris, SAC assistant professor of biology.
The slogan for the SCC Hawk Earth Fest on April 23 is "Be Green; Help Us Clean." The schedule for the day's events includes the following:
At 10:00 a.m. in E-203, remarks from Raúl Rodríguez. Ph.D., chancellor, Rancho Santiago Community College District (RSCCD), will kick off the day's festivities.

At 10:15 a.m. in E-203, South Coast AQMD presents the documentary film, "The Right to Breathe," followed by a discussion.

From 11:15 a.m. to 12:15 p.m. in the courtyard outside the E Building, there will be an exhibit of environmentally responsible organizations, products and practices, including Orange County Coastkeeper, the College Assistance Migrant Program (CAMP) promoting recycling, Current Issues Forum showcasing the use of Genetically Modified Organism (GMO) in food, and electric vehicles.

From 12:30 p.m. to 1:30 p.m. in E-203, there will be a presentation about water sustainability.

At 1:30 p.m. in E-203, the event closes with remarks by college president Juan Vázquez and an opportunity drawing for a $600 gift certificate for a bicycle.
"I think we could argue that the earth is facing some of its most precarious and dangerous times. It is vital that we weave into our pedagogy information that will help our students to be informed about these issues and this event will serve that function. I am so grateful to the efforts of the students that brought this event about. We all hope that it will lead to a new and healthy tradition for Santiago Canyon College," said Douglas Deaver, SCC associate professor of philosophy.
In spring 2012, the college district launched the Sustainable RSCCD initiative to explore how the district can better conserve natural resources and through a shared governance committee make recommendations regarding sustainable or "green" practices.
About the Rancho Santiago Community College District
The mission of the Rancho Santiago Community College District (RSCCD) is to respond to the educational needs of an ever-changing community and to provide programs and services that reflect academic excellence. Santa Ana College and Santiago Canyon College are public community colleges of RSCCD, which serve the residents of Anaheim Hills, East Garden Grove, Irvine, Orange, Santa Ana, Tustin and Villa Park. Both colleges provide education for academic transfer and careers, courses for personal and professional development, customized training for business and industry, and programs to train nurses, firefighters and law enforcement personnel.
# # #