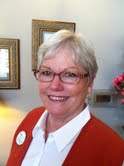 SAN CLEMENTE'S TINA BORDEN HONORED WITH FAIRHAVEN'S OLIVER HALSELL CARE AWARD FOR SERVICE TO SENIORS
LAGUNA NIGUEL, Calif. – January 22, 2012 – Each morning, San Clemente resident Tina Borden takes her dog Valdez for a walk and reflects on the gift of service. It is a gift that has led her on a 12-year journey of caring and advocating for the city's aging population and offering comfort and peace for those in the twilight of their lives.
Borden, health services director for Aegis Living of Dana Point is being honored as the January recipient of Fairhaven's Oliver Halsell Care Award. Fairhaven, an Orange County mortuary and memorial park with locations in Santa Ana and Mission Viejo, created the recognition program in 2012 to pay tribute to individuals who have demonstrated exceptional care in their profession, community and the world at large.
"Caring for seniors requires the right mix of patience, compassion and creativity," said Marla Noel, President of Fairhaven. "Despite entering the industry later in life, Tina has demonstrated the natural ability to care for her residents with an unbridled enthusiasm that is infectious to both her residents and colleagues."
Borden, formerly a full-time mom, decided to pursue her nursing degree at the age of 40, looking for a career that offered both flexibility and the opportunity to serve individuals in need. After working as a rehab nurse in Wisconsin, she relocated to Dana Point in 2000. It was there where she would find her true calling at Aegis Living.
"I always had a passion for working with seniors and have been blessed with the patience and enthusiasm to work with this population," said Borden.
As health services director, Borden works tirelessly to attend to the residents of Aegis' 64 apartments, providing health services, performing physical assessments, meeting with families and overseeing the administration of medication. Amid this extensive list of responsibilities, Borden says her most important role is as an advocate.
"When a senior enters the healthcare system, they need someone to advocate for them, ask the right questions and make sure they are getting the highest standard of care," she says. "This is my primary responsibility to residents when they are at Aegis and when they are sent to the hospital."
This is a responsibility she demonstrates routinely when residents are sent to the emergency room. Borden takes great care to ensure that the resident is clearly understood and works directly with the doctors to ensure that the proper course of treatment is provided. She will also make follow-up visits and bring small gifts to heighten their spirits.
Borden's passion for care is also on display at home, where she cares for her husband who suffers from multiple sclerosis. "There is no joy greater than to take care of someone you love," Borden says. Thanks to her relentless passion for service, this is a joy that she has brought to countless others throughout South Orange County.
Borden will be honored at Fairhaven's Oliver Halsell Care Awards banquet in the fall at Fairhaven's Mission Viejo location. The banquet honors a year's worth of achievements among the local community. Additionally, Fairhaven will make a donation to the Multiple Sclerosis Society on behalf of Borden.
About Fairhaven's Oliver Halsell Care Award
Fairhaven's Oliver Halsell Care Award pays tribute to Orange County individuals whose kindness and dedication to serving others is inspirational. These courageous individuals go above and beyond their job descriptions to serve with the utmost care and compassion. Fairhaven's Oliver Halsell Care Award winners come from many fields including private care, hospice, social work, counseling, assisted living, nursing, therapy and volunteer work.
For more information and to nominate a deserving candidate, visit Fairhaven's website: http://www.fairhavenmemorial.com/community/oliver-halsell-care-award or email CareAwards@FairhavenMemorial.com. 
About Fairhaven
Founded in 1911 by Oliver Halsell to provide a peaceful and comforting place for families to honor their loved ones, Fairhaven Memorial Park & Mortuary is Orange County's most beautiful independently owned and operated full-service mortuary, crematory and cemetery. With the memorial park and mortuary in Central Orange County and an elegantly appointed mortuary in South Orange County, Fairhaven offers a wide range of pre-need and at-need services provided with care and compassion. Fairhaven is dedicated to celebrating the individual, providing services that are as unique and wide-ranging as the people they celebrate. Additional information is available at www.fairhavenmemorial.com. Connect with Fairhaven at www.facebook.com/fairhavenmemorial or www.twitter.com/fairhavenoc.
# # #