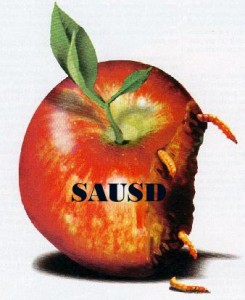 The very best elementary school in the Santa Ana Unified School District, according to the O.C. Register's latest rankings, is John Muir Fundamental Elementary, which was ranked #25 in the county. The only other SAUSD elementary school to rank over #50 was Jim Thorpe Fundamental Elementary, which was ranke84d #32. The other fundamental school in town, Greenville Elementary, was ranked #72.
The rest of the SAUSD Schools, with the exception of Carl Harvey Elementary at #84, are ranked below the top 100, with 13 of them ranked below the top 300 and six ranked in the 200's.

This is terrible news as the failure to educate kids in our elementary schools bodes ill for their advancement to middle schools and high schools.
All of my kids attended Muir Fundamental. It has been a great school for some time. But how long will that last in what remains a terrible school district with perhaps the worst School Board in Orange County? They certainly aren't accountable as they don't even list their contact information on the SAUSD website.  Only two of the SAUSD Trustees have school-aged children.  One of them, Rob Richardson, never had any kids.  Three of them work for the government, one is a lawyer and Trustee John Palacio says he is a political consultant, although I don't know that he has ever succeeded in getting anyone other than himself elected.
I am fortunate that this is my family's last year with the SAUSD. My son James is graduating from Godinez Fundamental and my son Jacob has been accepted into a math and science magnet school in Tustin. Adios SAUSD!
Sadly many Santa Ana families cannot escape the SAUSD. For them the nightmare continues.
Click here to see the Register's elementary school rankings.
Here are the top elementary schools in Orange County, as per the OC Register:
GOLD
•Stonegate Elementary, Irvine Unified
•Ethan B. Allen Elementary, Garden Grove Unified
•Jack L. Weaver Elementary, Los Alamitos Unified
•Stone Creek Elementary, Irvine Unified
•Villa Park Elementary, Orange Unified
•Rossmoor Elementary, Los Alamitos Unified
SILVER
•Newland (William T.) Elementary, Fountain Valley Elementary
•Arbolita Elementary, La Habra City Elementary
•Huntington Seacliff Elementary, Huntington Beach City Elementary
•Francis Hopkinson Elementary, Los Alamitos Unified
•Walt Disney Elementary, Magnolia Elementary
•Tustin Memorial Elementary, Tustin Unified
BRONZE
•Albert Schweitzer Elementary, Magnolia Elementary
•Brookhaven Elementary, Placentia-Yorba Linda Unified
•Hicks Canyon Elementary, Tustin Unified
•John Murdy Elementary, Garden Grove Unified
•Melrose Elementary, Placentia-Yorba Linda Unified
•Acacia Elementary, Fullerton Elementary
•Eastbluff Elementary, Newport-Mesa Unified
•Turtle Rock Elementary, Irvine Unified
•Ladera Palma Elementary, La Habra City Elementary
•Westpark Elementary, Irvine Unified