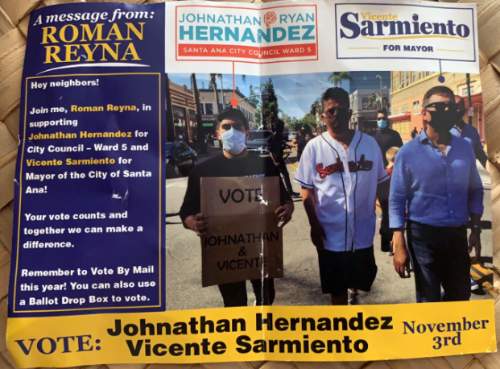 Former Santa Ana City Councilman Roman Reyna pleaded guilty to one felony count of perjury and one misdemeanor count of Elections Code 18201, filing fraudulent nomination papers, as part of a plea agreement in 2019. Reyna was ordered to pay $578,053.16 in restitution which represented the cost of the special election the City of Santa Ana had to hold to replace Reyna on the City Council. Reyna was also banned for life from holding elected office, according to the OCDA.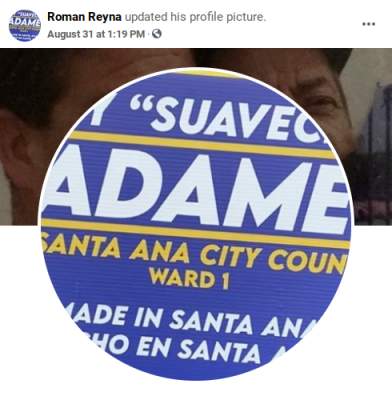 We truly doubt Reyna has repaid his debt to the Santa Ana taxpayers but he is back with a campaign walk piece touting his own selected slate of candidates for the Santa Ana City Council: Johnathan Hernandez in Ward 5 and Vince Sarmiento for Mayor. Reyna has also set his profile picture on Facebook to promote Ward 1 candidate Tony Adame.
Perhaps Reyna has resolved his sentence? After a one-year progress review, the guilty plea to the felony charge was supposed to be withdrawn and he would then be sentenced on the misdemeanor Elections Code charge if he made progress toward completion of the terms of his probation.

But it is hard to believe that Reyna was able to scrape up over half a million dollars to pay the restitution fee. His Facebook page still says he is employed by the SAUSD. That too seems a stretch. What use would they have for a convicted felon who is not a teacher?
Every culture has their own word for "shameless." In Spanish we say "desvergonzado." In Yiddish they say one has a lot of "chutzpah" or is "besbushenik." In Vietnamese they say "không biết xấu hổ." Whatever the phrase you prefer you can apply it with gusto to Reyna, who has apparently learned nothing from his political travails.