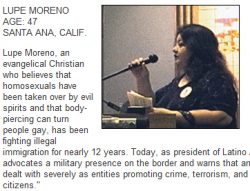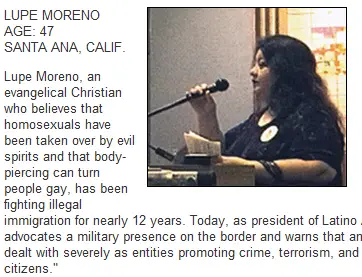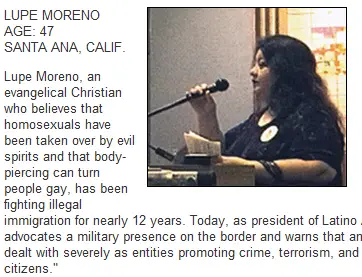 The Southern Poverty Law Center exposes those who advocate hate, such as Lupe Moreno
FOR IMMEDIATE RELEASE
Church of the Foothills Welcomes an Attorney from the Southern Poverty Law Center
Santa Ana, California (July 31, 2010) – The Church of the Foothills is very pleased to welcome a guest speaker from the Southern Poverty Law Center as part of their ongoing Peace & Justice Speakers Series. The Southern Poverty Law Center is a nonprofit civil rights organization dedicated to fighting hate and bigotry, and to seeking justice for the most vulnerable members of society. James McElroy, an attorney who has tried cases on behalf of SPLC, will be speaking on Sunday August 8th, at 11AM.
Founded as a small civil rights law firm in 1971, the SPLC is now internationally known for tracking and exposing the activities of hate groups. The SPLC was founded to ensure that the promises of the civil rights movement became a reality for all. Since their founding, they've won numerous landmark legal victories on behalf of the exploited, the powerless and the forgotten.
Lawsuits from the Southern Poverty Law Center have toppled institutional racism in the South, bankrupted some of the nation's most violent white supremacist groups and won justice for exploited workers, abused prison inmates, disabled children and other victims of discrimination.
Speaker Jim McElroy has been in private practice in San Diego for over 30 years specializing in Civil Rights cases and general civil litigation. Additionally, Mr. McElroy is on the Board of Directors of the Southern Poverty Law Center and was its past Chair. He serves on the Board of the non-profit Juvenile Justice Project of Louisiana.
Mr. McElroy served on Lt. Gov. McCarthy's Hate Crimes Commission and testified before legislative committees regarding the passage of hate crimes statutes. He worked with the Southern Poverty Law Center and Morris Dees in trials that resulted in a 12.5 million dollar judgment against Tom Metzger and the White Aryan Resistance, 6.2 million dollar judgment against Aryan Nations in Idaho and 2.5 million dollar judgement against the Imperial Klans of America.
Mr. McElroy was awarded San Diego County Bar Association's Service to the Legal Profession Award, the Outstanding Attorney of the Year Award, the National Civil Rights Award from the Anti-Defamation League, the Margaret Sanger Award from Planned Parenthood for Distinguished Service in Protecting Women's Rights and the Womancare Health Center Award for Advocating the Legal Rights of Women.
Then, on Sunday August 29th, Jenna Wadsworth McCarty will be speaking on behalf of Phoenix Infinite. Phoenix Infinite's Mission is making sustainable living an achievable reality for all.
Future Speakers in the Peace & Justice Series include such groups as the OC Food Bank, OC Shanti, and Parents and Friends of Lesbians and Gays (PFLAG).
Church of the Foothills is located at 19211 Dodge Avenue at Newport
Santa Ana, CA 92705. For more information, please call 714.544.1319.
###
ABOUT CHURCH OF THE FOOTHILLS
Church of the Foothills (ChOTF) has been "Open and Affirming" of the LGBT community for many years, and offers monthly LGBT fellowships, with a variety of exciting events planned. Additionally, Church of the Foothills was profiled in the Orange County Register for performing one of the first legal same-gender church weddings in Orange County and provides ceremony services for committed couples.
A dynamic and progressive church affiliated with both the United Church of Christ and the Disciples of Christ, ChOTF offers a variety of opportunities for mission, service and fellowship, with Sunday worship beginning at 9:00 AM. For more information on Church of the Foothills, please contact them via phone 714.544.1319 or online at www.chotf.org.
Church of the Foothills is located at 19211 Dodge Avenue at Newport
Santa Ana, CA 92705. Phone: 714.544.1319.
###
Contact: Kergan Edwards-Stout
Phone: 714.552.2348
Email: proud2bedad@yahoo.com or chotfona@gmail.com