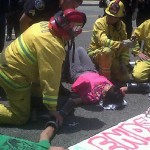 UPDATE: The Santa Ana 8 have all been released from jail!
Santa Ana students engaged in a civil disobedience action with the purpose of shutting down all activity in the Santa Ana Federal Detention Center, today.
At 10 am eight students blocked the driveway entrance to the detention center where buses full of detained immigrants enter and exit. Students sat down in the middle of the street and locked their arms using lockboxes so as to not be removed by the police or I.C.E. agents. Soon afterwards a large crowd of 300 supporters began to gather around the protestors declaring, "We are all Arizona!"
The protesters are not releasing their identities or carrying identifications in solidarity with undocumented people who are discriminated against and dehumanized because of discriminatory legislation and policies such as SB1070 in Arizona and Costa Mesa's "Rule of Law."
Furthermore, protesters, the majority of whom reside in Santa Ana, exclaimed their outrage with the refusal of the City of Santa Ana to proclaim itself a sanctuary city, despite repeated requests and demands by residents.
All the protesters have been taken to Santa Ana jail. There will be a press conference at 4pm.
They were able to block the entrance and exit of the santa ana detention center for almost 3 hours!!!
Visit the page to see the latest footage and spread the word at this link.
UPDATE:
Thank you for your support and solidarity. just wanted to inform you that so far only two detainees have been released. the other 6 are still detained. please call the chief of police (714-245-8001) and the deputy chief (714-245-8722) to demand that they immediately release the 6 activists and drop the charges of the santa ana 8.
Also, tune in tonight to telemundo to hear one of the arrestees, Iuri Lara speak about the protest.