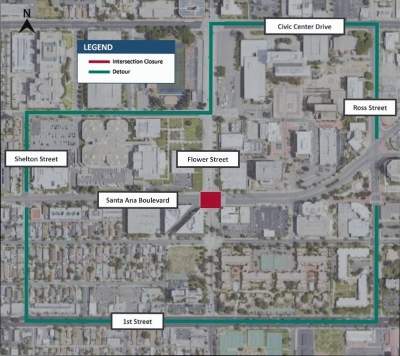 Construction crews will be working day and night shifts to replace waterlines in preparation for the OC Streetcar. To accommodate this work, a closure of W. Santa Ana Boulevard and N. Flower Street intersection will be in effect starting, Friday, 1/24/20 at 8:00 p.m. and continuing through Monday, 1/27/20 to 5:00 a.m. in the morning.
Right-hand turns at the intersection will be permitted, and access to businesses and residences will be maintained at all times. For any questions about the OC Streetcar project, please contact OCstreetcar@octa.net or (844) 746-6272. Download the new OC Streetcar app available in the App Store and Google Play to get updates on traffic closures and detours.
Please note construction schedules are subject to change.
Thank you for your patience during the OC Streetcar construction!
For current, OC Streetcar project status and updates please visit:
http://www.octa.net/Projects-and-Programs/All-Projects/Rail-Projects/OC-Streetcar/?frm=7683
To receive OC Streetcar construction notices visit:
http://www.octa.net/Projects-and-Programs/All-Projects/Rail-Projects/OC-Streetcar/?frm=7683#!Construction