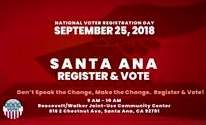 City of Santa Ana
Community: Santa Ana Urges Youth Civic Engagement: High School & College Students to Host Citywide Voter Registration Event
SANTA ANA, CA – On Tuesday, September 25 at 9:00 a.m., the Santa Ana City Council, along with representatives from Santa Ana College, Santa Ana Unified School District, Santa Ana Chamber of Commerce and the League of Women Voters will host a public event to kick off the City's 'Register and Vote' campaign that will run until Election Day on November 6.
Youth organizers are encouraging new voters: "Don't speak the change, make the change." With this September 25th event, Santa Ana is joining efforts around the country to celebrate National Voter Registration Day. This single day of coordinated field, technology and media efforts aims to help tens of thousands of new voters learn about voter registration opportunities in Santa Ana.
According to the Orange County Registrar of Voters: in the 2016 election, there were 102,412 registered voters in Santa Ana with 43,607 Vote-by-Mail and Early Voting, and a 73.8% turnout.
The Santa Ana community are invited to attend this event:
Tuesday, September 25, 2018, 9:00 a.m.
Roosevelt/Walker Joint-Use Community Center at 816 East Chestnut Avenue, Santa Ana, CA 92701
As a reminder, the deadline to register to vote is Monday, October 22, 2018. Visit the OC Vote website at www.OCVote.com to learn more about how to register.
You may register to vote in California if:
• You are a United States citizen.
• You are a resident of California.
• You are at least 18 years of age (or will be by the date of the Election).
You should re-register to vote when:
• You move to a new permanent residence.
• You change your legal name (through marriage, divorce, etc.).
• You change your political party choice.
Voter Registration forms available or may be requested at:
Orange County Voter Registrar's Office
1300 N. Grand Ave., Santa Ana, CA
(714) 567-7600
Santa Ana City Hall – Clerk of the Council Office
20 Civic Center Plaza, 8th Floor, Santa Ana, CA
(714) 647-6520
All local government offices, including your local Library.
This information has been provided by the City of Santa Ana as a public service announcement; is non-partisan; and does not endorse any candidate. If you have any questions, please contact the Santa Ana Clerk of the Council Office at (714) 647-6520, during regular business hours.