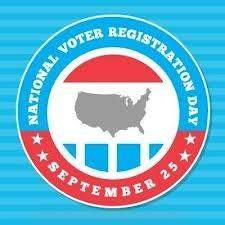 City of Santa Ana, Downtown Orange County Community Alert:
JOIN US FOR NATIONAL VOTER REGISTRATION DAY REGISTER TO VOTE TODAY!
SANTA ANA, CA (September 24, 2012) – On September 25, 2012, volunteers, civic groups, and organizations from all over the country will "hit the streets" for National Voter Registration Day. This single day of coordinated field, technology and media efforts will create pervasive awareness of voter registration opportunities–allowing us to reach tens of thousands of voters or more who we could not reach otherwise.
The City of Santa Ana along with numerous organizations encourage you to exercise your right to vote. The deadline to register to vote for the 2012 Presidential and Santa Ana General Municipal Election is October 22, 2012.
You may register to vote in California, if:
You are a United States citizen
You are a resident of California
You are at least 18 years of age (or will be by the date of the Election)
You are not in prison or on parole for a felony conviction
You have not been judged by a court to be mentally incompetent
When to re-register to vote:
You move to a new permanent residence
You change your name (through marriage, divorce, etc.)
You change your political party choice
On-line Voter Registration:
The California Secretary of State has a new on-line voter registration system. Click here to register to vote today.
Vote-by-Mail information:
To obtain information on how to become a Vote-by-Mail voter in Orange County,

click here

.
Voter Registration forms available at:
Santa Ana City Hall – Clerk of the Council Office
20 Civic Center Plaza, 8th Floor, Santa Ana, CA Office (714) 647-6520
Orange County Voter Registrar's Office,
1300 N. Grand Ave., Santa Ana, CA Office: (714) 567-7600
Local Libraries
OC County Offices
US Post Offices
Department of Motor Vehicle Offices
Form available on-line at: http://www.ocvote.com/
Information provided courtesy of: Santa Ana Clerk of the Council Office.
####
For full details, view this message on the web.