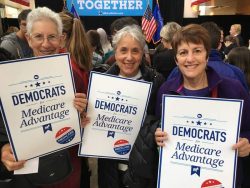 Letter to the Editor
By: Margarita Palomar Beaty, Santa Ana resident
There's a lot of uncertainty for anyone covered by a healthcare plan these days, but for seniors on Medicare Advantage, our coverage is vital to our health and welfare. I've been on traditional Medicare and Medicare Advantage, and I have much greater peace of mind on Advantage. For seniors like me living on a fixed income, Medicare Advantage offers a cap on out of pocket expenses and a low co-pay for doctor's visits. The same goes for prescriptions. It is a complete health plan.
Preventative care and wellness are also covered. I have access fitness programs, cancer and blood pressure screenings, and annual vaccinations without pinching pennies. I also receive vision and dental care a low price.
Medicare Advantage is good for seniors. It keeps us healthier and removes financial stress. And despite watching Medicare Advantage being placed on the federal budget chopping block every year, it continues to overperform for seniors. The program enjoys bipartisan support in our area in Congresswomen Sanchez and Walters, who recognize the importance of Medicare Advantage and continue to protect it. As we enter a new era of governance in our country, I hope all policy makers understand they can't balance the budget on the backs of senior citizens.
Margarita Palomar Beaty
Santa Ana, CA 92705