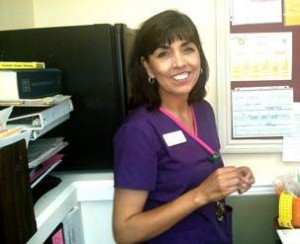 TERESA VALDEZ HONORED WITH FAIRHAVEN'S OLIVER HALSELL CARE AWARD
Santa Ana resident honored for caring beyond her job description 
Santa Ana, Calif. – Sept. 27, 2013 – To Teresa Valdez, caring for others and bringing happiness into their lives is not simply her job; it's her lifestyle. The Santa Ana-based mother of two boys is the customer service director at Country Villa Plaza Healthcare Center, a skilled nursing and rehabilitation center offering a range of services to local residents. She spends her spare time serving her community and bringing an irrepressible joy to everyone she encounters.
Valdez's attentiveness and passion for helping others, both in her career and home life, has earned her the honor of being the September recipient of Fairhaven's Oliver Halsell Care Award. Fairhaven, an Orange County mortuary and memorial park with locations in Santa Ana and Mission Viejo, created the recognition program in 2012 to pay tribute to individuals who have demonstrated exceptional care in their profession, community and the world at large.
"Teresa Valdez understands that many of the new patients that arrive to the facility are fearful of the unknown, and she makes it her priority to make them feel safe and at home," says Marla Noel, President of Fairhaven. "By demonstrating her drive to go the extra mile to offer patients the best care possible, she exemplifies the true essence of caring."
Valdez has had a heart for service since her childhood. "Ever since I was a young girl, I've been passionate about helping others," said Valdez. "This led me to pursue a long and fulfilling career as a caregiver and I've never looked back." Valdez is now in her 25th year with Country Villa Plaza, where she began as a nursing assistant and was later promoted to Medical Records Director. When the company created the position of Customer Service Director, Valdez was immediately offered the position given her years of helping and caring.
In this position, Valdez oversees a broad range of care programs for the facilities, including Alzheimer's care, short stay rehab care and long term care. However, Valdez will tell you it is the little things that truly fulfill her. "Something as simple as bringing a patient a cup of coffee or sharing a conversation will often be the highlight of my day," she said. On a daily basis, Valdez emulates the organization's mission statement: to provide the highest integrity and quality of compassionate and effective health care services. Valdez's smile, when nervous and hesitant families enter the facility, is the spark that makes them feel at ease when admitting their loved one to Country Villa Plaza.
While Valdez's position requires her to care for others on a daily basis, her reach extends far beyond her job description. When she is not assisting patients at work, she is dedicating her time volunteering at her church and Alzheimer's Association, Orange County.
Caring is an around-the-clock passion for Valdez, and her efforts touch not only her family, but her patients and community as well. She does what she loves, and loves what she does.
Valdez will be honored at Fairhaven's Oliver Halsell Care Awards banquet in the fall at Fairhaven's Mission Viejo location. The banquet honors a year's worth of achievements among the local community. Additionally, Fairhaven will make a donation to Alzheimer's Association of Orange County in her honor.
About Fairhaven's Oliver Halsell Care Award
Fairhaven's Oliver Halsell Care Award pays tribute to Orange County individuals whose kindness and dedication to serving others is inspirational. These courageous individuals go above and beyond their job descriptions to serve with the utmost care and compassion. Fairhaven's Oliver Halsell Care Award winners come from many fields including private care, hospice, social work, counseling, assisted living, nursing, therapy and volunteer work.
For more information and to nominate a deserving candidate, visit Fairhaven's website: http://www.fairhavenmemorial.com/community/oliver-halsell-care-award or email CareAwards@FairhavenMemorial.com.
###
About Fairhaven
Founded in 1911 by Oliver Halsell to provide a peaceful and comforting place for families to honor their loved ones, Fairhaven Memorial Park & Mortuary is Orange County's most beautiful independently owned and operated full-service mortuary, crematory and cemetery. With the memorial park and mortuary in Central Orange County and an elegantly appointed mortuary in South Orange County, Fairhaven provides funeral, cremation and burial services both at the time of need and through advanced planning, maintaining its steadfast commitment to care and compassion. Fairhaven is dedicated to celebrating the individual, providing services that are as unique and wide-ranging as the people they celebrate. Additional information is available at www.fairhavenmemorial.com. Connect with Fairhaven at www.facebook.com/fairhavenmemorial or www.twitter.com/fairhavenoc.