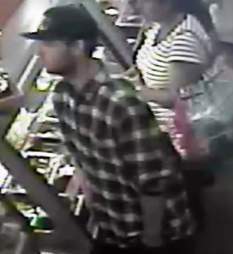 Santa Ana Police Department Advisory: Detectives request Media & Public assistance identifying suspect in second armed robbery
Detectives link suspect to second Santa Ana Robbery
Location 1: 2860 S. Bristol # E, SUBWAY
Weapon: Black, semi-automatic handgun
Suspect: Male, White, 30-35, blond hair, 6'00-6'03, 150-180 lbs., wearing a black, blue, green checkered long sleeved shirt, dark pants and a black baseball cap with an unknown design.
Synopsis: On 9/22/13 at approximately 1725 hours, the above suspect entered the Subway restaurant and ordered a sandwich. When the clerk rang him up, he produced a gun ordering her to open the cash register. The clerk hid behind a wall. The suspect grabbed the sandwich and ran out of the restaurant.
Additional Photos
Released on 9-26-2013
Crime Type: Commercial Robbery
Location: 100 W. Mac Arthur/ Mobil Gas Station
Suspect Description: Male, Caucasian, 25-30 yrs., 5'10"-6'00" tall, 180-200 lbs., short brown straight hair, light beard. Suspect wore a distinctive paper-boy cap and was armed with a black semi-auto pistol.
Synopsis: On 09/22/2013 at approximately 2345 hrs., the above pictured suspect entered the Mobil Gas Station with a gun and robbed the store clerk. The suspect fled westbound on foot with US currency.
Video available contact Police Department PIO Anthony Bertagna
Forward any information to: To Orange County Crime Stoppers 1-855-TIP- OCCS or Detective Corporal A. Silva, 714-245-8545.
###