MAKARA CENTER FOR THE ARTS PRESENTS FRANKENREAD 2018:
SANTA ANA READS FRANKENSTEIN
Year-Long Reading Initiative Kicks Off on Wednesday, January 17
at the Santa Ana Senior Center in Celebration of the Book's 200th Anniversary
Santa Ana, CA – Makara Center for the Arts, the nonprofit library and art center, is launching FrankenRead 2018: Santa Ana Reads Frankenstein, a reading initiative to coincide with the 200th Anniversary of Mary Shelley's classic novel. The citywide celebration begins on Wednesday, January 17 at the Santa Ana Senior Center, featuring a presentation by poet Luivette Resto, refreshments, art activities, and free Frankenstein book giveaways.
FrankenRead Kick-Off Event: Wednesday, January 17, 2018, at the Santa Ana Senior Center at 424 W 3rd St., Santa Ana, from 6:00 p.m. – 7:30 p.m.
Learn more by watching this FrankenRead video featuring Makara founder, Marytza K. Rubio.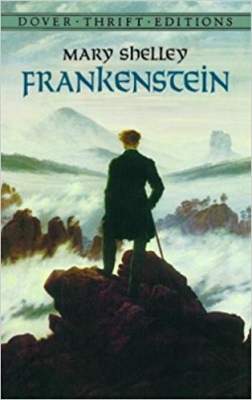 The year-long FrankenRead 2018 initiative encourages all Santa Ana residents to read the timeless story of Frankenstein and discuss its continued relevance today. Makara Center for the Arts is offering free copies of Frankenstein to Santa Ana residents at the Makara Library and will host a series of related programs and events throughout the year, including a live musical scoring of the 1931 Frankenstein film; special editions of Makara's Science Saturday presentations; "California Screamin'," a horror writing panel on Saturday, January 20; and more.
The unique story of Frankenstein covers a wide range of thought-provoking themes that society is still discussing today: life after death, rebirth, resurrection, consciousness, and immortality, as well as the questions that arise at the frontiers of science, technology, engineering, the arts, and mathematics (STEAM). In addition, the masterful artistry and brilliant mind of Mary Shelley provides a welcome feminist perspective to these influential ideas. Makara encourages our neighbors to engage with these questions, participate in new conversations, and expand their imaginations.
Stay up to date throughout the year at www.frankenread2018.org.
About Makara Center for the Arts
The mission of Makara Center for the Arts is to provide access to arts & culture in Santa Ana through workshops, public performances, and multimedia resources. Santa Ana has only one full-service library for over 340,000 residents. Makara provides Santa Ana residents free access to its specialized library collection, and encourages independent thinkers to further cultivate knowledge through unique programs. The library & art center is a creative hub for workshops, performances, discussions, and other accessible programs that encompass a global view of arts and culture. Makara is committed to providing its neighbors with opportunities to explore their curiosity and expand their imagination.
Learn more at www.makaracenterarts.org.