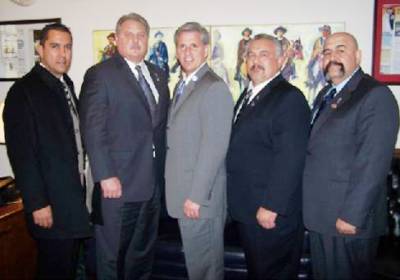 FOR IMMEDIATE RELEASE: September 10, 2012
CONTACT: Carlos Valenzuela, PHONE: (858) 220-2090, EMAIL: 714valenzuela@gmail.com
Santa Ana Police Officers Association Support Alderete with Powerful Endorsement
Santa Ana, California – Eric M. Alderete's campaign for Santa Ana City Council (Ward 3) received another powerful endorsement. Alderete announced today that the Santa Ana Police Officers Association (SAPOA) endorsed his candidacy for Ward 3. The SAPOA joins other recent endorsements by the Orange County Labor Federation and the Democratic Party of Orange County.
"Eric Alderete is committed to keeping our kids and neighborhoods safe," said SAPOA President John Franks. "We know he understands that a safe city is critical to the continued growth of Santa Ana and we are proud to endorse his campaign for the Ward 3 seat on the Santa Ana City Council."
"It is a great honor to have the support of the men and women of the Santa Ana Police Officers Association," said Alderete. "The SAPOA's endorsement carries great significance with Santa Ana residents. I look forward to working closely with them over the course of our campaign."
The Santa Ana Police Officers Association is comprised of sworn and non-sworn Santa Ana Police Officers, retired police officers and reserve officers of the Santa Ana Police Department. They are dedicated to making Santa Ana a safer place to live and work.
A strong advocate for economic development, public safety and education, Alderete is the Chairman of the Santa Ana Planning Commission and serves on the Board of Directors of the Santa Ana College Foundation. There, he has helped sustain the college's Veterans Resource Center which provides academic counseling and guidance to military veteran students. Alderete holds a Bachelor of Arts and law degrees from the University of California, Berkeley and a Master in City Planning from the Massachusetts Institute of Technology. He works as Vice President of a major Southern California company.
###