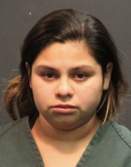 Santa Ana Police Department
Advisory: SAPD Detectives Arrest Mother Of Four For Child Abuse – 13 Month Old Child In Critical Condition
Sacil Lucero (26) Santa Ana, a 26-year-old mother of four, was arrested Sunday for physically abusing her 13-month-old twins. Sacil Lucero, currently pregnant with her fifth child, was arrested after her daughter was taken to UCI Medical Center unresponsive and lifeless. Lucero claimed her child fell in the bathroom but the victim had major trauma to her head and had signs of physical abuse. The victim had multiple injuries and is listed in critical condition.
The Departments Special Crimes Unit Detectives were called in to take over the investigation. Lucero was interviewed and admitted to intentionally causing the injuries to the victim. Lucero was arrested for child abuse and booked into the Orange County Jail.
Continuing their investigation, detectives checked on the welfare of Lucero's other children and discovered the victim's twin brother was also physically abused. The second victim was taken to CHOC hospital where doctors discovered a skull fracture and multiple rib fractures.
Suspect Lucero was re-interviewed and admitted to physically abusing the second victim and claimed she began abusing her twins when she discovered she was pregnant.
Suspect Lucero's two other children appeared unharmed and had no signs of abuse and left in the care of their father.
Anyone with information is asked to call Detective Partida at 714-245-8660 or Orange County Crime Stoppers at 1-855-TIP-OCCS.