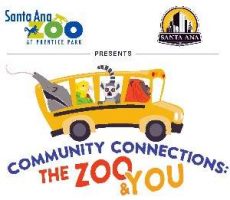 Join the Santa Ana Zoo for at-home nature activities! Santa Ana youth in preschool through middle school are invited to sign up for your kit and join zoo staff for a FREE virtual program.
Community Connections: The Zoo & You is a new program dedicated to connecting the zoo to our community through fun, interactive programs for youth of all ages. Nature Lab programs include kits of all of the materials needed to complete activities during a live Zoom session with zoo staff. Participants will love getting their hands dirty as they investigate, observe, construct and share their discoveries.
Whooooo is ready to fly into the world of owls? Reserve your kit and mark your calendar to discover why owls are so important to our environment!
Sign Up:
Visit https://forms.gle/V37Mxd98vCExTbLR7 to reserve your activity kit and get your confirmation. Kits are designated for students in preschool through 2nd grade or 3rd grade through middle school.
Pick Up:
Ask a grown-up to help you pick up your kit from the Santa Ana Zoo parking lot (drive-thru only) on Saturday, July 25, at the designated time.
Log On:
Log on to Zoom on Saturday, Aug. 1, with the information in your kit to join the LIVE program for your grade level with zoo staff and a special animal guest!
Questions? Please submit all questions using the registration form.
Note: This kit contains an owl pellet activity. We recommend that children with sensitivities to feathers or fur sign up for a different program. Please request to be put on the waitlist for future kit programs.