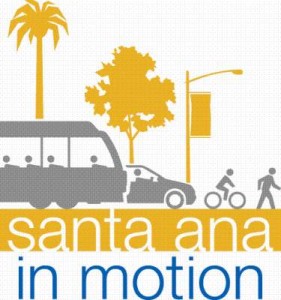 Santa Ana General Plan Circulation Element Update
The General Plan contains the City's values and vision for its future. The General Plan Circulation Element (9.8 MB) communicates goals, policies and programs to address Santa Ana's local and regional transportation and travel needs.
You can weigh in on the General Plan at a Community Open House that is set for Saturday, April 27, 2013, at the Southwest Senior Center, located at 2201 W. McFadden Avenue, in Santa Ana.  The meeting will run from 9:30 a.m. – 12:00 p.m. A presentation will take place at 10:00 a.m. Event Flyer.
Over the next several months, the City will be working with the community to update the Circulation Element and develop a "Complete Streets" policy. This effort will improve travel choices and provide a number of social, economic, environmental and health benefits to the community. Join in helping the City of Santa Ana create streets that are safe and convenient for all travelers!
Get Involved and Stay in Touch
Public Open Houses and Workshops are planned for the community to participate in shaping the City's General Plan Circulation Element and Complete Streets plan. You are also invited to share your ideas, ask questions or sign up to receive future updates by sending an e-mail to SantaAnaInMotion@santa-ana.org or calling (714) 667-2792.
Upcoming Meetings
Community Open House
Thursday, May 9, 2013
Santa Ana Senior Center
424 West Third Street
6:00 p.m. – 8:00 p.m.
A presentation will take place at 6:30 p.m