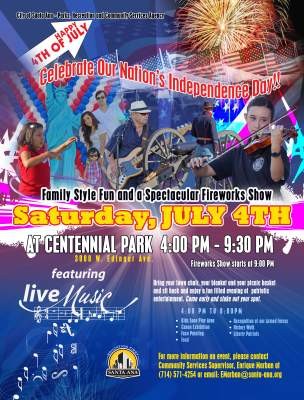 City of Santa Ana, Downtown Orange County
Community Alert: Nation's Birthday Party Celebrated with a Bang! / Celebración del Día de la Independencia con Fuegos Pirotécnicos
Join the Mayor & City Council for family style fun and a spectacular fireworks show at the City of Santa Ana's 2015 Independence Day Celebration at Centennial Park on Saturday, July 4, 2015 from 4:00 pm to 9:30 pm. "Santa Ana's annual tradition on 4th of July is to have fun, show your patriotism, picnic at the park, enjoy great music, learn about history, and watch a spectacular fireworks show over the Centennial Park lakes," said Santa Ana Council Member David Benavides.
The Independence Day celebration will feature live performances by the Full Spectrum Band and Santa Ana High School. The celebration will also feature a History Walk with costumed characters from our nation's history educating children, a kid's zone play area with three bounce houses and games, civil war cannons, and recognition of our Armed Forces. The fireworks show will begin at 9:00 pm. Bring a picnic basket or enjoy the various food vendors throughout the park. Admission is free and guests are encouraged to arrive early to find a spot in the park.
Council Member Roman Reyna, who leads a group of youth to volunteer in helping produce the event said, "I am particularly thrilled that every year we get Santa Ana Youth more and more involved in these types of events. This is the best way to engage and motivate our youth to become leaders."
Centennial Park is located at 3000 W Edinger Ave, Santa Ana, CA. For more information, contact Enrique Marban at Emarban@santa-ana.org or call (714) 571-4254.
########################################################
Celebración del Día de la Independencia con Fuegos Pirotécnicos
Únase al Alcalde y a los miembros del Concejal para disfrutar de una tarde familiar llena de diversión y un espectáculo de fuegos artificiales el 4 de julio del 2015, en el Parque Centennial comenzando a las 4:00 pm hasta las 9:30 pm. "Esta es la tradición anual que presenta la Ciudad de Santa Ana en celebración del 4 de julio para divertirse, demonstrar patriotismo, disfrutar de un picnic, buena música, aprender sobre la historia del Día de la Independencia, y presenciar de un espectáculo de fuegos pirotécnicos sobre los lagos del parque Centennial," dijo el Concejal David Benavides.
La Celebración del 4 de Julio incluirá la presentación del grupo Full Spectrum y la banda de la Escuela Preparatoria de Santa Ana. Los niños podrán aprender sobre la historia de la nación durante el paseo histórico poblado por personajes de época, divertirse en la zona de juego en los brincolines, observar cañones de la Guerra Civil, y participar en el reconocimiento a nuestras fuerzas armadas.
La exhibición de fuegos pirotécnicos comenzara a las 9:00 pm. Traiga su canasta de picnic para este evento o disfrute de los diferentes platillos que estarán a la venta en el parque. La entrada al público es gratis y se le recomienda a la gente que llegue temprano para poder encontrar un lugar en el parque.
El Concejal Roman Reyna, quien dirige un grupo de jóvenes cual ayudara a producir este evento comento: "Me emociona el ver que los jóvenes de la ciudad de Santa Ana se involucran cada año más ya más con su comunidad para asistir con este evento. Es una de las mejores oportunidades para motivar a los jóvenes a que se conviertan en líderes."
El Parque Centennial esta ubicado en 3000 W Edinger Ave, Santa Ana, CA. Para más información, contacte a Enrique Marban a su correo electrónico Emarban@santa-ana.org o llame al (714) 571-4254.