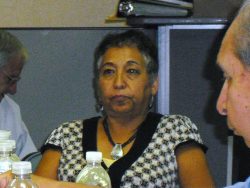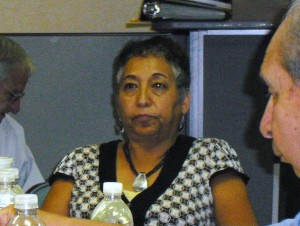 Santa Ana Parks and Recreation Commission Chair Tish Leon
Another scandal is erupting – and like the Benavides Hatergate fiasco it involves Councilman David Benavides.
I found out this week that Benavides' appointment to the Santa Ana Parks and Recreation Commission, Julie Stroud, joined with the Chair of that Commission, Tish Leon, in terrorizing a high school student who was on their Commission because he admitted to reading my blogs and being my friend on Facebook.
Leon called the student commissioner and berated him for over an hour.  He also received a nasty call from Stroud.  He ended up resigning from the Commission.  I am withholding his identity because he asked me to – and because he has already suffered enough.
Councilman Sal Tinajero appointed this young man, who is an honor student, to the Parks and Rec Commission.  He was shocked when he heard what happened.  He has promised to take action next week.
Leon and Stroud appear to have broken  not only with decorum but also with the Santa Ana Code of Ethics, which governs the actions of both elected and appointed officials.
They appear to have violated this part of the City's Code of Ethics:
RESPECT FOR FELLOW ELECTED OR APPOINTED OFFICIALS, STAFF, AND THE PUBLIC
I treat my fellow officials, staff and the public with patience, courtesy and civility, even when we disagree on what is best for the community.
I work towards consensus building and gain value from diverse opinions.
I respect the distinction between the role of office holder and staff; I involve staff in meetings with individuals, those with business before the agency, officials from other agencies and legislators to ensure proper staff support and to keep staff informed.
I conduct myself in a courteous and respectful manner at all times during the performance of my official City duties.
I encourage full participation of all persons and groups; I am aware and observe important celebrations and events which reflect the values of our diverse population.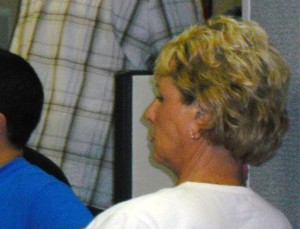 Santa Ana Parks and Rec Commissioner Julie Stroud
Leon was appointed to this Commission by Council Member Michele Martinez.  It should be noted that Stroud does not live in Benavides' ward.
It should likewise be noted that Leon works at the Santa Ana Public Law Center.  Perhaps she should ask the attorneys there to explain Freedom of Speech and Freedom of Association to her.
Leon is also involved with Santa Ana Mayoral candidate Al Amezcua.  She has been part of his SaCred coalition from the start and hosts his meetings at her office.
Click here to email the Santa Ana City Council and express your views about Leon and Stroud's actions.  Personally I think they should be removed immediately from their Commission.  Adults who bully our young people should not be associated with our City in any capacity, period.