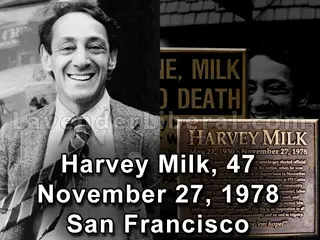 Apparently the City of Santa Ana will be issuing a Certificate of Recognition honoring Harvey Milk, the slain San Francisco politician who has come to represent the gay movement in the U.S., on Monday, May 6, at the Council Meeting, according to an email I received from Archer Altstaetter, the promoter of the East End Promenade, in Downtown Santa Ana.
Archer wrote that "In 2010, Santa Ana was the first City in Orange County to recognize Harvey Milk Day and they have recognized it every year since. The recognition will take place at the beginning of the City Council meeting in City Council Chambers. City Council meeting is supposed to begin at 5:45 pm, but as most of you know, it sometimes is a little late getting started. Wear your GNFF shirts."
Archer also advised that on Tuesday, May 21, 2013, The Orange County Board of Supervisors will be recognizing Harvey Milk Day. They refused to do so for several years and Supervisor Janet Nguyen even got up and walked out of a meeting once when this was being discussed, on the pretext of having to go breastfeed her child.  I guess she is on board with this now that she is running for the 34th State Senate District, in 2014.